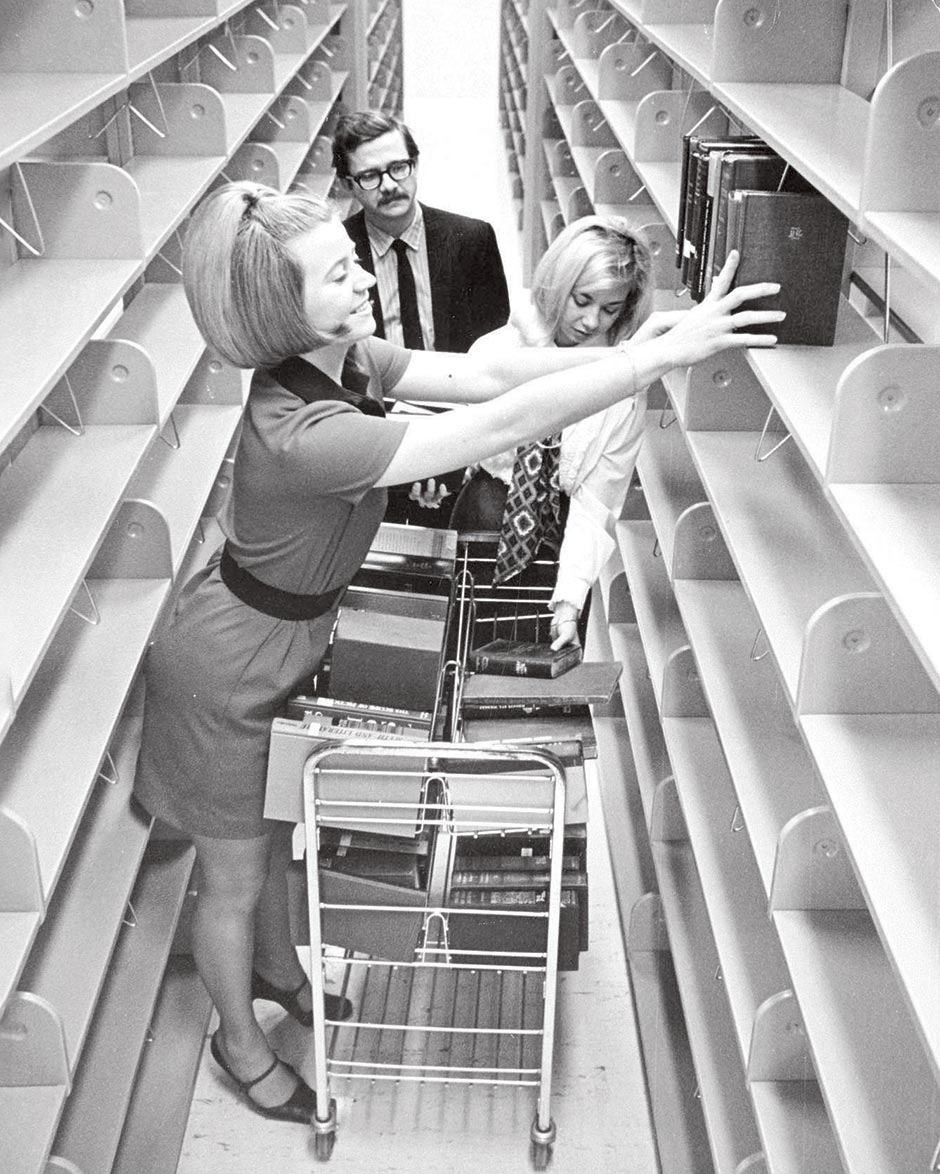 CATHERINE WESTON GRIFFIN (B.S. general science, '69)
"I worked in the library during my first semester at State in 1965. The stacks at that time were closed so I would get a card from the students and then run up and down the stairs to retrieve their books. Many times, I would bring the books and they were not what the students thought they needed. Later, I would restack all of the books. However, the best thing that happened to me in the library was that my future husband, Lavelle Griffin, saw me there. After studying in the library one night, he saw me leaving. He says to this day that it was love at first sight, but he didn't know who I was. It turns out that he knew my older brother, Charles Weston, who was a senior. While my brother and I were eating in the cafeteria he came over and introduced himself. We will celebrate our 52nd anniversary this year. I got a wonderful soulmate because of the library and a great degree from Mississippi State. Because of my degree, I was able to set up medical laboratory procedures for a hospital. One procedure was especially rewarding because it was one that monitored a new transplant drug."

---
HOMER MCLEMORE (B.S. elementary education, '72)
"Very exciting to see the picture on the last page of the Alumnus winter issue. The 'undated' picture of a student stocking shelves at the library is probably from the spring of 1971. Beth Langston, now Beth Fitts, is a dear friend and Delta Gamma sorority sister of mine. Great picture of Beth that brought back many memories."
---
CHARLES V. BELL (B.S. electrical engineering, '56)
"I was thrilled to see the buses on the back cover of Alumnus, poised to carry the Famous Maroon Band off on a concert tour or football game. I do not recognize the musicians in the photo and am not entirely certain of the year it was taken, but I can give you a good idea.
I enrolled as a freshman at Mississippi State College in the fall of 1952. Having enjoyed playing in the Starkville High School band, I naturally looked into continuing to play my clarinet at State. That worked out well as my band scholarship, as solo clarinetist, paid my tuition, which was about $50 a semester!
I remember that the uniforms worn in the photograph were brand new in 1952-53 and that I was among the first 100 members to wear them. I will always be indebted to our inspirational director, W. Thomas West, who provided me, and countless others, such an outstanding musical experience while we struggled to master our engineering courses—at that time engineering majors formed the majority of the band. I will continue to treasure my photograph of the concert band in those uniforms, with Prof. West standing proudly alongside us.
Prof. West was a fantastic leader; always made a point of punctuality, which I appreciated very much. When we were on tour, he instructed the bus drivers to depart at the designated time, regardless of who was missing. Sure enough, in Jackson one morning, Prof. West himself was not at the buses at the proper time. As he instructed, the buses left without him. When he finally caught up with us, he praised the drivers and band members for following his instructions. He always had a superb band that was strongly supported by the student body. To keep the membership at 100, he had to reject many capable players. One year, 36 sousaphone players auditioned while we only had spaces for eight! That's amazing, with a total student body only a bit over 3,300!
I had many fine professors who prepared me well for graduate study at Stanford. Among them, I remember most fondly professors West and Simrall."

---