A wedding may be large or small, but when the day comes, all eyes focus on the bride and her choice of attire.
That's true whether the bride selects something long or short, sleek or voluminous, traditional or avant-garde.
Fashions for attendants of all ages play an important role, too, in setting the stage for the Big Day. They can complement a bride's style, carry out a chosen color scheme or just add a pop of personality.
With that kind of importance resting on a wedding party's choice of apparel, Mississippi State's Charles Freeman, an associate professor of fashion design and merchandising, said it takes a certain kind of person to work in the bridal industry.
"It takes a detail oriented, patient, empathetic and understanding person, someone who can keep a calm, cool demeanor while dealing with brides and wedding parties," Freeman said. "When students say that they want to do bridal, I do my best to discourage them."
Why?
"The smallest detail can derail a bride. So, you want to be able to communicate, 'I can do this better than anyone,'" Freeman said of those who work in the wedding industry. "It's very high stakes."
Still, the estimated $300 billion global business is alluring for many, including graduates of Mississippi State's fashion design and merchandising program who now own full-service bridal salons that can outfit all the female members of a wedding party plus the mother of the bride.
"We're producing business owners who contribute to the local workforce and economy," Freeman said of the program that is ranked among the nation's top 50 by fashion-schools.org.
Housed in the College of Agriculture and Life Sciences and offering two undergraduate concentrations—design and product development, and merchandising— the fashion design and merchandising program prepares students to enter the workforce or open their own shops by providing a foundation of classes, projects, internships and study abroad opportunities that build an understanding of the fashion and textile industries, consumer behavior, product development, business principles and technology applications.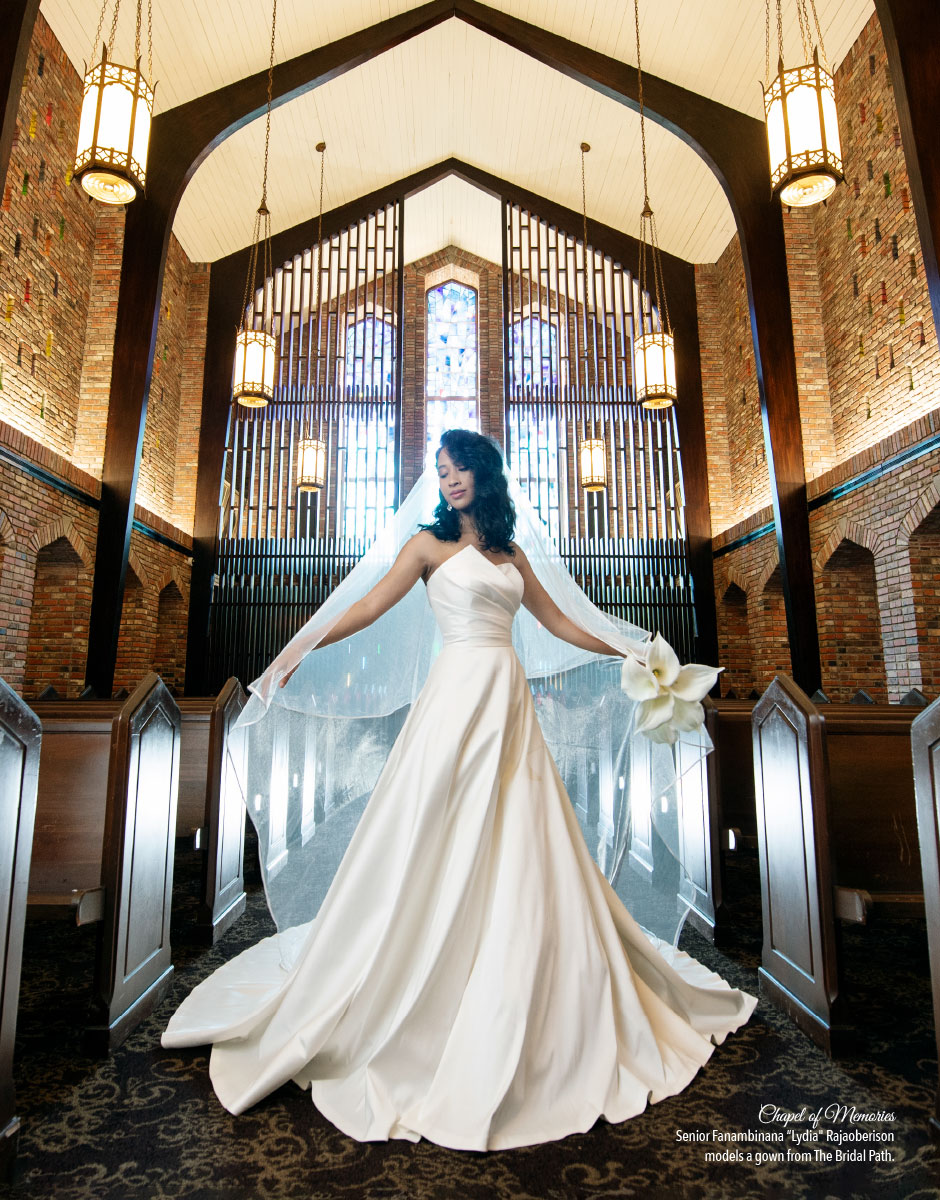 As a 2018 graduate, Audrey Jarvis McCarty uses the knowledge and experience she gained at MSU as owner of The Bridal Path, a longtime Jackson establishment she purchased just two days after her college graduation.
Her education, combined with a sunny personality, have given her the ability to deal with any distressed bride, demanding mother or overbearing bridal party, plus the challenges brought on by the coronavirus pandemic.
"I know I'm where I am supposed to be," said McCarty, who works alongside her mother, Janie Jarvis, also a graduate of MSU. "I think it was a God thing that everything fell into place. I never thought I'd own a business when I was 22."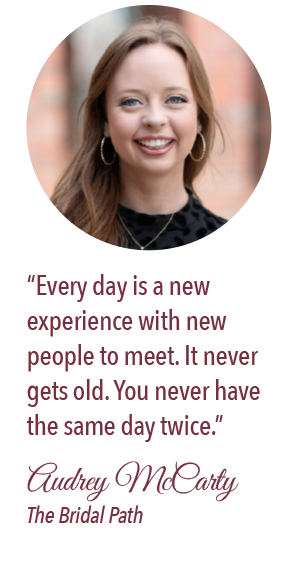 McCarty said she was well versed in the operation of The Bridal Path before she became the owner because she worked there most summer and winter breaks while a student at MSU, as did her sister, Amelia Jarvis, now a senior elementary education major at Mississippi State.
"We got to see it as employees to know what we could do differently," McCarty said.
McCarty admits that yes, some days may be easier than others, but that's OK.
"I'd rather be stressed at The Bridal Path than anywhere else," she said. "Every day is a new experience with new people to meet. It never gets old. You never have the same day twice."
The Bridal Path has been in operation for 50 years, with its first 44 under the ownership of mother-daughter team and fellow Mississippi State alumni Rosemary Castle Guest, who earned a bachelor's in education in 1956, and Luanne Douglass Mashburn, a 1983 accounting graduate. McCarty said she was glad to keep the shop in Bulldog hands, having used her time at State to prepare for the career.
At MSU, McCarty completed a research project through the Center for Entrepreneurship and Outreach about perceptions brides had about retail, she also studied abroad with her professors in France and Italy and attended a meeting of the National Retail Federation Student Association in New York.
"I had so many cool experiences at Mississippi State, got to know my professors and worked on so many group projects that helped me to learn to interact with people," she said. "All of those things have helped me succeed."
Freeman said being passionate about one's work in the bridal industry isn't enough for success. As McCarty has demonstrated, it also takes a knowledge of the market, trends in design, fabrics and how to buy apparel that fits a particular market—and it is a large and diverse market.
In 2019, the Magnolia State accounted for 16,355 of the total 2.1 million weddings in the U.S. The average cost of a wedding in Mississippi amounted to $23,800 compared to a $33,900 national average, according to The Knot 2019 Real Weddings Study.
Once released, the 2020 numbers will likely look very different due to COVID-19 precautions and restrictions. McCarty said The Bridal Path, like many other retailers, shut its doors for several weeks as part of efforts to quell the spread of the virus.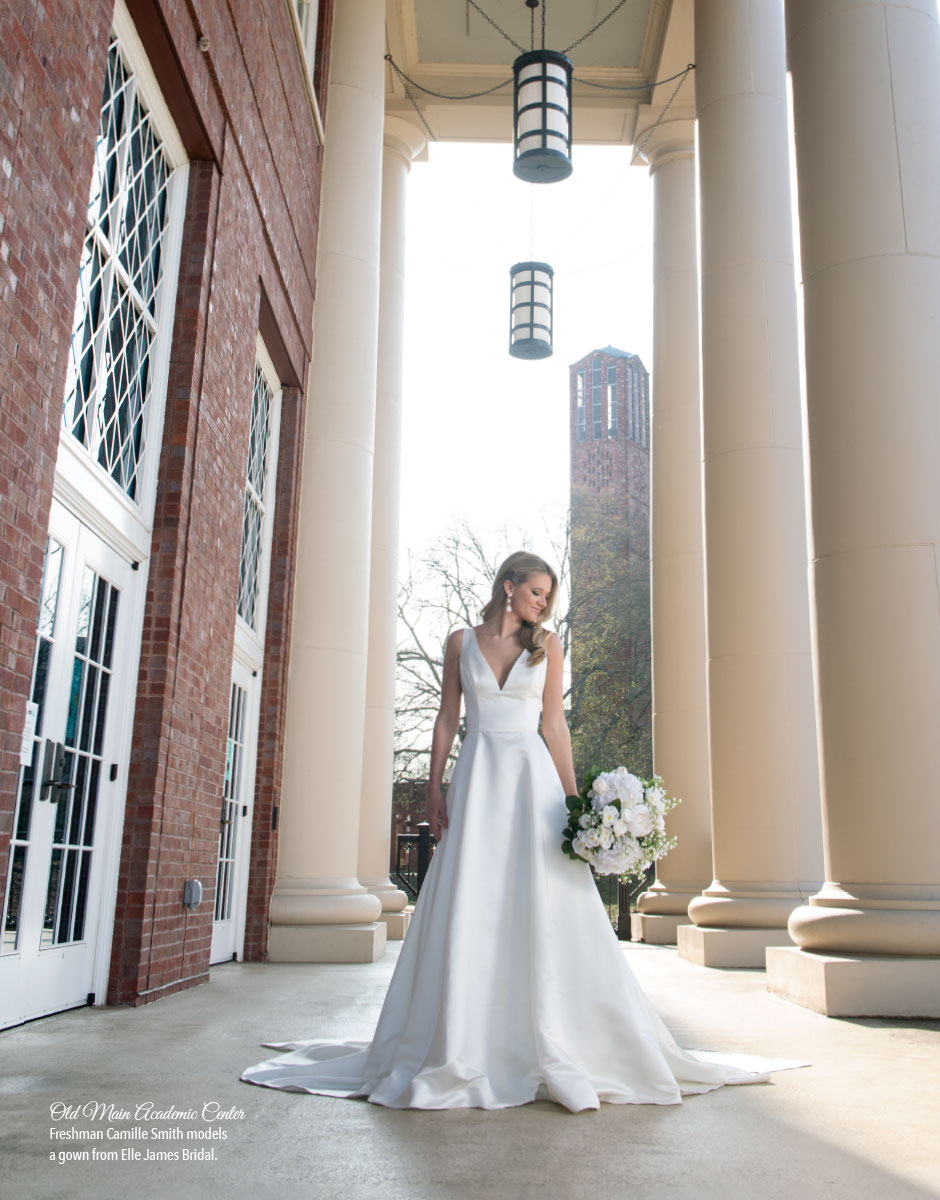 "We had a lot of people rescheduling in the beginning of the virus," McCarty said. "We were open by necessity for the brides who were still having their weddings and needed to pick up their dresses or have them altered. We did not take a new bride for about six to eight weeks."
Still, this year McCarty worked to keep her shop current and ready to serve Mississippi brides, thanks in part to summer help from MSU senior Taylor Anne Trusty, The Bridal Path's first intern from the fashion design and merchandising program.
"My internship with The Bridal Path helped me realize that working in the bridal industry is where I want to begin my career after graduation," Trusty said, noting that she spent her workdays preparing new inventory, updating displays, maintaining the store's social media presence and assisting in planning the store's annual photo shoot.
"I updated The Bridal Path Pinterest board and designed and posted various bridesmaids' mood boards for the company's Instagram page," Trusty explained. "I also established an information sheet with various contacts and information so that the stylists can quickly answer questions over the phone."
McCarty noted that while the pandemic has changed the scale of many weddings, it hasn't stopped brides from looking for the perfect dress for their big days and possibly generations to come.
"What we've found is that a bride may be having a smaller wedding and may be unsure about how many guests to invite, but she still wants an awesome dress," McCarty said.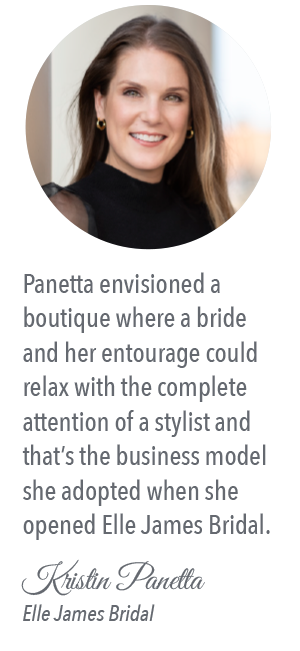 When the media wanted to localize a story about how the coronavirus could slow production of wedding gowns, many of which are sewn or made from materials produced in China, McCarty called fellow MSU alumna and bridal shop owner Kristin Miller Panetta to discuss it.
"That has affected our industry, but the manufacturers have done a good job getting things back on track," she said. "Kristin and I call each other and help each other out when we can. It may be that we send a bride to her shop who wants a specific gown or she sends someone to us."
A 2012 communication graduate who minored in fashion design and merchandising, Panetta opened Ridgeland-based Elle James Bridal in 2016. She said she began planning the store after noticing friends were choosing to travel out of state to boutiques that specialized in wedding gowns and offered one-on-one service.
Panetta said she envisioned a boutique where a bride and her entourage could relax with the complete attention of a stylist who would help her find the perfect dress. And that's the business model she adopted when she opened Elle James Bridal, which specializes in handpicked, couture wedding gowns.
She derived the name of the boutique from her "thoughtful, inspiring and extremely beautiful" grandmother, Elle, and "amazing" father, James, who embodied the qualities she hopes to display through Elle James Bridal.
Panetta said Elle James allows her to be her own boss and incorporate the skills she learned from an internship in New York City with the Veronica Beard brand. She has also paid-it-forward by employing interns from Mississippi State, including Elizabeth Costa, a 2019 fashion design and merchandising graduate who interned at Elle James Bridal before joining Panetta as a full-time employee.
"Her knowledge caught my attention," Panetta said. "She caught on so fast and she understands fabric and how gowns are sewn, which is important in this business."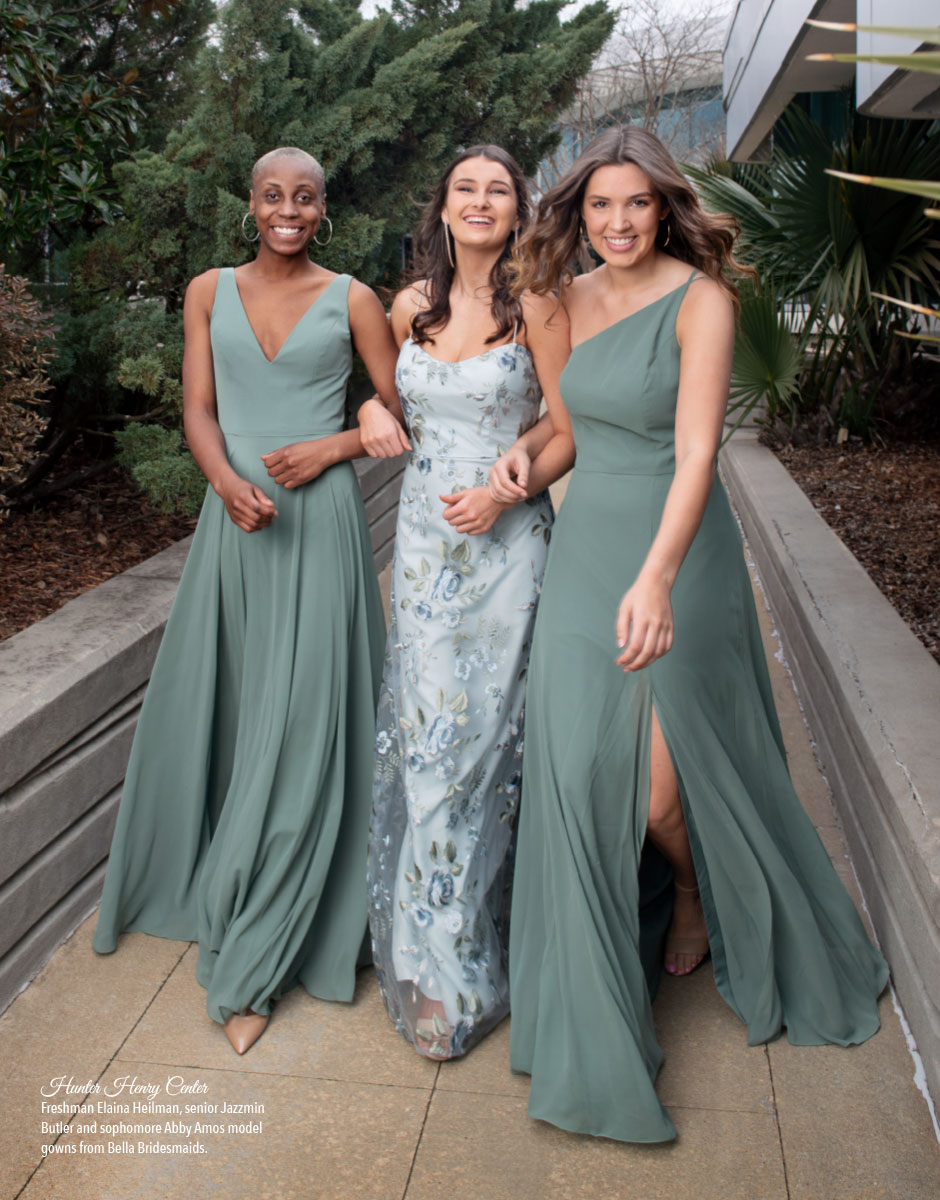 Freeman said internships are an important part of the fashion design and merchandising program, giving students hands-on, real-world experience.
Most often, those in the design and product development concentration intern with couture designers or in non-retail settings. Merchandising internships often include marketing, store management, buying, sourcing, sales, merchandising, media and special events, fashion journalism or consumer relations experiences. Internships in theatrical costuming or in museums with historical costume or textile collections are also possible.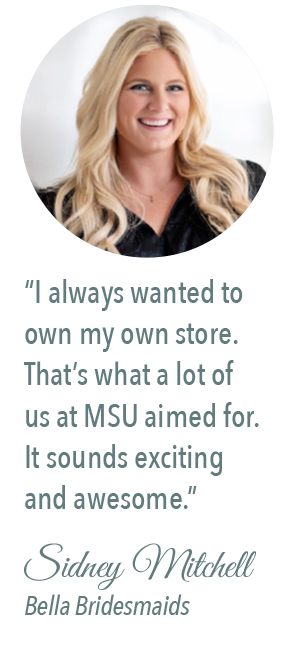 Graduates of the fashion design and merchandising program pursue jobs as fashion consultants, stylists, costume or accessory designers, manufacturer representatives, product developers, visual merchandisers, textile scientists and fashion journalists.
Two internships are required to help students pin down their interest, Freeman said, noting that there are a variety of opportunities available across the country that cover all aspects of the field.
Alexa England spent the summer of 2019 as a bridal consultant intern at Kleinfeld Bridal in Manhattan, where TLC's reality television series "Say Yes to the Dress" is filmed.
"I worked with 22 different consultants, selected over 2,500 gowns to style brides, assisted with over 200 appointments, and handled contracts and paperwork," England said. "My greatest challenge was when filming for 'Say Yes to the Dress America.'"
Madison Ratledge, a 2020 MSU graduate with a double major in fashion design and merchandising and business, also interned at Kleinfeld Bridal. After working as an inventory analyst for Belk in Charlotte, North Carolina, she is now pursuing a master's in fashion design and merchandising at Mississippi State.
Sidney Mitchell, a 2016 fashion design and merchandising graduate, interned at a store in her hometown of Senatobia. While in college, she also worked at a women's boutique in Starkville and studied abroad in Italy. She knew, however, that she wanted to do more than sell clothes.
"I always wanted to own my own store," Mitchell said. "That's what a lot of us at MSU aimed for. It sounds exciting and awesome."
She got that opportunity in 2019 when she and her mother, Allyson Mitchell, purchased the Bella Bridesmaids franchise in Memphis from fellow MSU alumna Kelsey Jones, who wanted to pursue other retail opportunities.
Mitchell said owning a franchise that had many business details already worked out was appealing.
"Knowing that I have the franchise to support me and cheer me on is good," Mitchell said of the Chicago-based Bella Bridesmaids enterprise that has more than 55 showrooms across the U.S.
Mitchell said Bella Bridesmaids is unique among bridal shops in that it doesn't carry wedding gowns—only dresses for the attendants. This, she said, creates a low stress environment for the bride who can "sit back and relax while making her vision of her big day come to life."
Though she's now found a niche business that she enjoys, Mitchell said it wasn't necessarily something she always planned on doing. She explained that she didn't know about Mississippi State's fashion design and merchandising program until she arrived on campus.
"When I found out about it, I knew it was 'so me,'" she said. "The professors in the fashion design and merchandising program are devoted to what they do and set the bar high," she continued. "They eat and breathe fashion design and merchandising. They put everything in it. They really care about the program."

While Bulldog alumni from a variety of fields are available to help brides and grooms plan their trips to the altar, Mississippi State University itself offers a host of venues and services for those who want a little Maroon spirit with their bridal white.
The Chapel of Memories, with its iconic stained-glass details and intimate atmosphere, is a perennial favorite for on-campus weddings.
"I've seen lots of brides come through and plan weddings there," said Vanessa Collier, coordinator of campus events at MSU.
Collier noted that weddings may be booked up to a year in advance, with May, June and July among the most popular months. Other campus spaces that are popular for ceremonies or receptions include the Foster Ballroom in the Colvard Student Union, the Gridiron Club at Davis Wade Stadium, the Leo Seal Jr. Football Complex, the Griffis Boardroom in the Palmeiro Center and the Hunter Henry Center, which features both indoor and outdoor garden spaces that are popular for events.
The University Florist, located on Lee Boulevard, offers a variety of services for weddings including bridal registries in its gift shop and personal consultations for planning wedding flowers. With a student staff under the direction of faculty from the floral management program, the florist provides the design and setup for everything from large-scale arbors, altarpieces and ceremony décor to personal flowers, reception pieces and cake décor.
Collier said the university also has food vendors who can cater a reception and will again offer on-campus guest accommodations when the Butler Guest House resumes operations in the summer of 2021.
Anyone wishing to host an event at Mississippi State University can contact MSU Event Services at 662.325.3228 or visit www.union.msstate.edu/plan-an-event. For information about reserving the Hunter Henry Center, contact Jenna Shook at jshook@devalumni.msstate.edu, and visit MSUBulldogClub.com for details on renting athletic facilities for events.
For additional information about services offered by the University Florist, visit https://www.florist.msstate.edu or call 662.325.3585.
By Nell Luter Floyd, Photos By Megan Bean
---