Bobby P. Martin: A life of philanthropy and service, 2/13/1933 – 11/4/20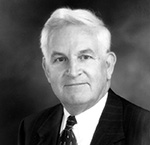 Mississippi State University remembers alumnus Bobby P. Martin for his significant impact at his alma mater and in his home state of Mississippi. He was a successful Northeast Mississippi banker, innovative economic development leader and generous higher education supporter who died Nov. 4, 2020 at age 87.
A Walnut native, Martin earned an agronomy degree from Mississippi State in 1956 and was awarded an honorary Doctor of Business Administration by the institution in 2002. He was also an alumnus of the Graduate School of Banking at Louisiana State University.
Martin and his wife of 64 years, Barbara Moore Martin, have been longtime Ripley residents. As the beloved patriarch of a loyal Bulldog family, he felt overwhelming pride when two more generations of his family followed his path to MSU.
Daughter Mary Martin Childs ('80) and grandson Bob Glover ('05) worked alongside him in the banking industry, becoming leaders at The Peoples Bank in Ripley, where Martin served as CEO and president from 1970-2012 and concluded his career as chairman of the board. In all, Martin enjoyed over 59 years of public service. He believed in giving back to the industry that had given him so much as evidenced by his service as chairman of the Mississippi Bankers Association and the Mississippi Board of Banking Review.
Just as Martin guided his family, he also passionately mentored and inspired numerous MSU students. He and his wife were longtime supporters of scholarships and faculty awards at the university. In particular, the Bobby P. and Barbara M. Martin Presidential Endowed Scholarship honors them. They were among the inaugural donors for the four-year endowed scholarships that are the most prestigious at Mississippi State. The Martins also supported the Bobby P. and Barbara M. Martin Endowed Faculty Fellowship, with endowment earnings ensuring development opportunities for dedicated faculty members. Along with academics, Martin also was an enthusiastic supporter of Bulldog athletics and was a former president of the Bulldog Club.
For some 35 years, Martin served the MSU Foundation board of directors, including leading the board as chairman from 1996-1998 and through invaluable involvement in various capital campaigns. A lifelong advocate for education, he was chairman of the Blue Mountain College board of trustees and was on the board of trustees for Northeast Mississippi Community College. He was also chairman of the CREATE Foundation, the North Mississippi Medical Center and the Yocona Area Council of the Boy Scouts of America.
Martin will be remembered for his forever Maroon and White spirit and service as an alumnus. For a time, he was a national board member for the MSU Alumni Association. Martin also was an officer for the Tippah County Alumni Chapter and was instrumental in the success of the chapter's scholarship program. In 1992, Martin was awarded the Distinguished Service Award by the MSU Alumni Association, followed by College of Agriculture Alumnus of the Year in 1998 and MSU National Alumnus of the Year in 1999.
Over his lifetime, Martin touched the lives of thousands of Mississippians through his work in banking and economic development, combined with a long and exemplary record of leadership and service in civic and educational affairs. His legacy at Mississippi State will continue through the endowments he established.
---
John William "Bill" Adams (B.S. management, '51) 91, Charlotte, North Carolina – As a student at Mississippi State, he served as student commander of the ROTC battalion. His active military service included two tours of duty with the U.S. Army's 11th Airborne Division and the U.S. Air Force Security Service. A banker by profession, he retired in 1993 as president of United Carolina Bank. He remained chairman of the UCB board of directors during the bank's acquisition by BB&T. He retired as director of BB&T's bank board in 1999. During that time, he also earned graduate degrees from UNC-Chapel Hill and Rutgers University. A member of numerous state and national professional organizations, he was also a civic leader in numerous religious, community and charitable activities including being a 32nd degree Mason. He was a founding member of Monroe Regional Airport and served on the board of the Charlotte Douglas International Airport, as well as the board of the Carolinas Partnership. An avid golfer, he twice qualified for the U.S. Senior Amateur Open and captained the North Carolina Senior Amateur Team. — Nov. 9, 2020
Fred H. Bayley III (B.S. civil engineering, '53) 88, Woodstock, Georgia – A native of Vicksburg, he spent over 40 years with the U.S. Army Corps of Engineers, retiring as director of engineering for the Lower Mississippi Valley/ Mississippi River Commissions in 1993. He received the Presidential Rank Award for service from George H. W. Bush in 1991 and was recognized as one of 130 Distinguished Engineering Fellows during the MSU Engineering Centennial Celebration. He was named an MSU Alumni Fellow in 1995 and was recognized in 2000 for his service to the MSU Civil Engineering Advisory Board, where he focused on leadership and management skills to complement engineering technical skills. He also served on the board of the Vicksburg YMCA. — Aug. 14, 2020

Harry Peters Howell (B.S. microbiology, '75) 66, Pascagoula – He was a member of Kappa Sigma Fraternity while at State. He was co-owner and lab director of Micro-Methods Laboratory Inc. in Ocean Springs for over 40 years. Howell was a board member for the Singing River Yacht Club and the Mardi Gras Krewe of Do Dah. An Eagle Scout, he was also active in Local USTA Tennis Leagues and advanced to the nationals in 1998 where his team came in second. — Feb. 28, 2020
Joel Scott Kennedy (B.S. fitness management, '93) 50, Tupelo – After graduating from Mississippi State, he earned a master's from the United States Sports Academy and devoted his life to athletic training. Early in his career, he was an athletic trainer for the Philadelphia Phillies professional baseball team. He later joined North Mississippi Medical Center Sports Medicine and was assigned to the Tupelo Public Schools. — July 16, 2020
Fred M. Lamon Jr. (B.S. Accounting, '52) 89, Fayetteville, Tennessee – A baseball player for Mississippi State, he served in the U.S. Army as a 2nd lieutenant. He was a practicing Certified Public Accountant for 66 years. — Nov. 14, 2020
David Carl Lewis (B.S. chemical engineering, '72; M.S. civil engineering, '79) 72, Austin, Texas – With a lifelong affinity for the sea, Lewis spent his career working to provide and conserve clean, fresh water. He worked with the Mississippi Bureau of Pollution Control and the Environmental Protection Agency to review plans and help secure funding for water and wastewater treatment facilities throughout the state. He later joined Michael Baker Engineering before moving to CH2M Hill Engineering in Dallas, Texas in 1985. With CH2M Hill, he worked on water projects around the world, including one in New Zealand and later India. — Oct. 23, 2020
Allie Dorothy Lanier Oberst Mullins (retired employee) 98, Panama City, Florida – A native of Starkville, she attended Mississippi State and later worked at the university in the nuclear engineering department until her retirement in 1975. She was a member of the Pilot Club and the Women's Professional Club of Starkville. — Sept. 20, 2020
William Charles Peel Jr. (B.S. business management, '60) 82, Greenwood – A member of Sigma Chi while at State, he was an Eagle Scout and had served as chairman of the Eagle Scout board of review. Following his graduation from State, he began a career in the funeral industry with Wilson and Knight funeral home in Greenwood. He retired in 2014. Peel also served in the Mississippi National Guard for eight years. He was a former member of the Mississippi and National funeral directors associations. He was also a member of the Greenwood-Leflore Chamber of Commerce and a member and two-time past president of the Greenwood Lions Club. He served on the board of the Greenwood Municipal Separate School District, on the advisory board of the Deposit Guaranty Bank of Greenwood and on the board of directors of First Federal Savings and Loan Association. — Feb. 18, 2020
William Harrison Phillips (B.S. animal science, '60; former Extension agent) 83, Starkville – Following his graduation, he joined the Mississippi State Extension Service where he continued his childhood passion for the 4-H Club as an agent in Quitman, Tallahatchie and Tunica counties. An eight-year Army veteran, he later worked for Mississippi Farm Bureau, serving 42 years as agency manager of Grenada County. — Oct. 16, 2020
Elwood Franklin Ratliff (B.S. agricultural engineering, '53) 89, Clinton – A member of the Pi Kappa Alpha fraternity, he completed Air Force ROTC while at Mississippi State. After serving two years on active duty, including being stationed in Japan, he served as a reservist and returned to MSU to work in agricultural engineering. He later returned to his family farm, earning Young Farmer of the Year honors in the 1960s. In the 1980s, he worked at the Flora Gin as the bookkeeper until his retirement in the late 1990s. In retirement, he volunteered at Mississippi Methodist Rehabilitation Center and served on the Hinds County Water Board. — Aug. 19, 2020
William D. Stephens (B.S. education, '76; former employee) 66, Prentiss – He began his career at Mississippi State in the Division of Student Affairs as an admission counselor and adviser for Kappa Sigma Fraternity. He was also leader of the Miss MSU pageant and director of summer orientation programs. He was instrumental in the pageant preparation of Cheryl Prewitt Salem, Miss America 1980. He was a talented pianist and vocalist and served as minister of music at Faith Baptist Church. He finished his career as a senior account manager and staff development director with Special Education Programs of the Southeast. — Aug. 9, 2020
Charles Calvin Tomlinson (B.S. electrical engineering, '48) 95, Baltimore, Maryland – He served in the U.S. Army before beginning a career at Westinghouse where he retired as an engineering manager after 35 years with the company. He was instrumental in the founding of Faith Baptist Church. — July 28, 2020
Allan Holder Tucker Jr. (B.S. dairy science, '59) 86, Starkville – A native of Starkville, he was active in 4-H and owned his own dairy cows in high school and college. He studied dairy science at MSU and later worked for the Extension Service. He was a member of the Mississippi National Guard. He spent 42 years in farm mortgage, farm management and real estate divisions of Prudential Insurance Company, working in Arkansas, Tennessee and Indiana. He was a member of the Kiwanis Club and director of Crowley Ridge Girl Scout Council. After returning to Starkville, he volunteered for Habitat for Humanity and served on the organization's board. He was also a member of the Starkville Rotary Club and the Quarterback Club. — Oct. 16, 2020
Karen Hurt Wing (B.A. art, '76) 66, Madison – Originally from Mobile, Alabama, Wing was a member of the Famous Maroon Band and served as head majorette. She was a member of the clarinet choir and Alpha Chi Omega while at MSU. She spent most of her career as art director for Mississippi Public Broadcasting in Jackson, where she contributed to education television for children. Through her set and puppet designs, graphics and animation, Wing brought learning to life for generations of children and families. She won multiple national EMMY awards for her work on "Ticktock Minutes," "Between the Lions" and other programs. — Sept. 6, 2019
---
Remember Dan Camp
Dan Camp, who is credited with driving the creation of Starkville's Cotton District, died Oct. 26, 2020. He was 79.
Camp earned from Mississippi State a bachelor's degree in industrial arts education in 1962 and a master's in school administration in 1965 before completing additional graduate studies at North Carolina State University in Raleigh. It was there that he was inspired by the compact design of a historic building—inspiration he would bring back to Starkville as the basis of his vision for an off-campus student community.
While teaching in the industrial education department, Camp began to explore the possibilities of the area between Starkville's downtown and Mississippi State's campus. Once home to a thriving mill, the area had become rundown as mill-supported buildings deteriorated.
In 1969, Camp began purchasing property in the area and created an eclectic collection of tightly packed housing and businesses. It has drawn admiration from urban planners ever since and the Cotton District is now one of the most desirable neighborhoods in Starkville, particularly for students who enjoy its pedestrian-friendly, architecturally varied neighborhood that contains cottages, duplexes, apartments, shops, courtyards and fountains.
A graduate of Tupelo High School, Camp served as Starkville's mayor from 2005 to 2009, bringing his unique vision beyond the Cotton District and into the town as a whole.
Portions of this tribute were informed by Camp's obituary that appeared as part of the New York Times' "Those We've Lost" coronavirus pandemic coverage.
---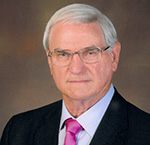 Samuel Bryce Griffis (friend) 90, Starkville – A generous and longtime supporter of MSU, Griffis was an outstanding proponent of higher education throughout his life. The Starkville businessman was a member of the Board of Trustees of State Institutions of Higher Learning for 16 years, serving two terms as board president in 1986-87 and 2003-04. He was an active member and former president of the MSU Foundation board of directors, and was also a former director of the Bulldog Club. He was active in the timber business for 63 years as president of Sturgis Lumber Company and Sturgis Timber Company. For 28 years, he was director of Security State Bank and chairman of the advisory board of the Deposit Guaranty Bank/AM South Bank in Starkville. He was also a longtime member of the Starkville Rotary Club. A graduate of Delta State University, he served on the university's Foundation board of directors and as president of the Athletic Alumni Association. Delta State Awarded him an Honorary Doctoral Degree in 2010. — Dec. 9, 2020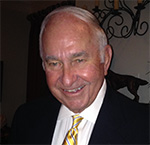 In memory of Charles Slade "Pap" McElroy (B.S. marketing, '56) 86, Saltillo – A native of Starkville, McElroy graduated from Starkville High School in 1952 where he was Mr. Starkville High. While attending Mississippi State, he belonged to a number of honorary groups including ODK, Scabbard and Blade, the Arnold Air Society and Delta Sigma Pi. He was a member of the Kappa Sigma social fraternity.
After graduation, McElroy entered the U.S. Air Force as a commissioned officer and served as a fighter pilot in the Air Defense Command. A member of the 444th Fighter Interceptor Squadron at Charleston, South Carolina, he flew the F101B Voodoo and the F86L and served as the squadron public relations officer.
His civilian career began as the assistant director of the North East Mississippi Industrial Development Association. He graduated from the Industrial Development Institute at the University of Oklahoma. A banking career followed along with graduation from the School of Banking of the South at Louisiana State University. He ended his career as a principal of the Reynolds Insurance and Real Estate Agency in Starkville.
McElroy served three terms on the MSU Alumni Association national board of directors, serving as National Alumni
President in 1983. He received the Alpha Kappa Psi Alumni Award for Service to the College of Business. He was a founding member of the MSU Bulldog Club serving as the first treasurer.
Beyond the university, he was a founding member and president of the Starkville Quarterback Club, president of the Starkville Chamber of Commerce, chairman of the Starkville Housing Authority, a founding officer in the Starkville Country Club and a former chairman of the board of the Palmer Home for Children. — Sept. 2, 2020
---
A legacy built through a lifetime of service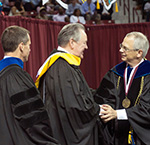 Robert V.M. "Bob" Harrison, a noted architect and longtime supporter of Mississippi State University, died Dec. 29, 2020 at the age of 85.
A Fellow of both the American Institute of Architects and the Construction Specifications Institute, Harrison was instrumental in establishing the School of Architecture at Mississippi State in 1973. He served on its faculty for 13 years, helped establish its capstone Fifth-Year program in Jackson and provided guidance as a member of the school's advisory board for more than two decades.
The continuing dedication of Harrison and his wife, Freda, to Mississippi State extends from leadership into financial support. In addition to gifts for scholarships and facilities in both architecture and landscape architecture, including the Robert and Freda Harrison Auditorium in the College of Architecture, Art and Design, the couple also established the Robert and Freda Harrison Endowed Visiting Lecture Series. In 2013, he was awarded an honorary doctorate from MSU.
Born in Maryland, Harrison grew up in Oxford, where he met Freda Wallace, his wife of 64 years. He said he knew from the age of 13 that he wanted to be an architect, ultimately finishing a Bachelor of Architecture at Tulane University in 1959, at a time when there was no architecture school in the Magnolia State.
He began his architecture career in Memphis, Tennessee, in 1960 before moving to Jackson in 1962. In 1965, working with two partners, he formed Jernigan, Hawkins and Harrison Architects and Engineer, now known as JH&H Architects, Planners, Interiors, PA. Three years later, he helped create a corporation to build healthcare facilities. It grew to be the eighth largest in the country, designing 50 facilities across the South.
Harrison completed a Master of Architecture at the University of Florida and later earned an MBA from Tulane. During his career, he served the American Institute of Architects as state president, regional director and member of the national board of directors, earning the AIA Lifetime Achievement Award in 2013. A founding member of the Mississippi chapter of the Construction Specification Institute, he later served as its president and was awarded the J. Norma Hunter Memorial Award for contributions to education.
With more than 40 years as a licensed architect, he served on the State Board of Architecture, the National Council of Architecture Registration Boards and the National Architectural Accrediting Board, which set criteria for accrediting all schools of architecture.
But among his largest impacts on the field of architecture are the hundreds of Mississippi State-trained architects who have and will continue to benefit from his leadership, vision and generosity.
---