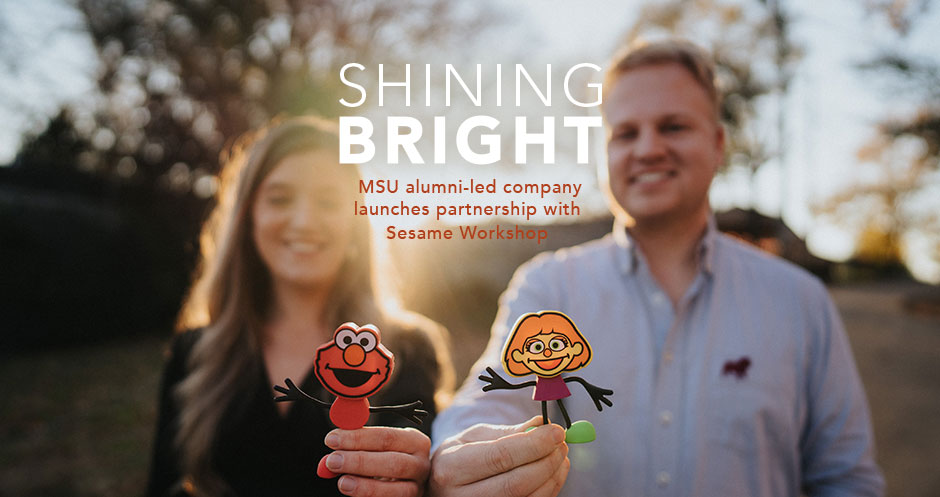 For more than four years, Starkville-based Glo has been making a splash in the world of entrepreneurship with its innovative bath toys known as Glo Pals. Now, through a partnership with Sesame Workshop, the company's newest Pals will resemble residents of a popular street.
Sporting bendable arms and colorful personalities, Glo Pals are liquid-activated, light-up sensory toys intended for children ages 3 and up. Beginning in April, the line will include "Sesame Street" favorites Elmo and Julia.
MSU alumna and Glo vice president Anna Barker, who runs the business with fellow Bulldog and Glo CEO Hagan Walker, said the company is excited to work with the long-running children's program.
"Sesame Street has been very careful in selecting who they partner with because Julia represents something special as the first Muppet with autism," explained Barker, a marketing and foreign language graduate from Monticello. "Because of the backstory on the creation of Glo Pals, we were granted a license to use Julia as our first toy released in partnership with Sesame Street, along with a Glo Pal for Sesame Street's Elmo character."
Walker said it was the mother of a child with autism who inspired the development of Glo Pals.
"She got the idea to put one of our Glo cubes in the bathtub at home," said Walker, an electrical engineering graduate from Columbus. "She reached out and told us when she did that, it was the first time in months that her son had gotten in the tub without crying."
At hearing this boy's story, Barker got an idea of how Glo could help children facing similar challenges.
"Hagan and I started doing research online, and we found out that bath time struggles are pretty common for children on the autism spectrum or with a sensory processing disorder," Barker explained. "We thought designing a toy with fun lights and colors that children could play with in the water would give them something positive to associate with bath time, which could help them better process the experience."
Glo Pals feature the same extensively tested technology as the company's popular Glo cubes that have been lighting up drinks at restaurants, parties and other special events since 2015.
"Our Glo cubes have always been designed to be safe, so to make them into Glo Pal toys for children, we designed characters and put their faces on the cubes," Walker said. "Anna created the whole brand behind Glo Pals, which is now our bestselling item."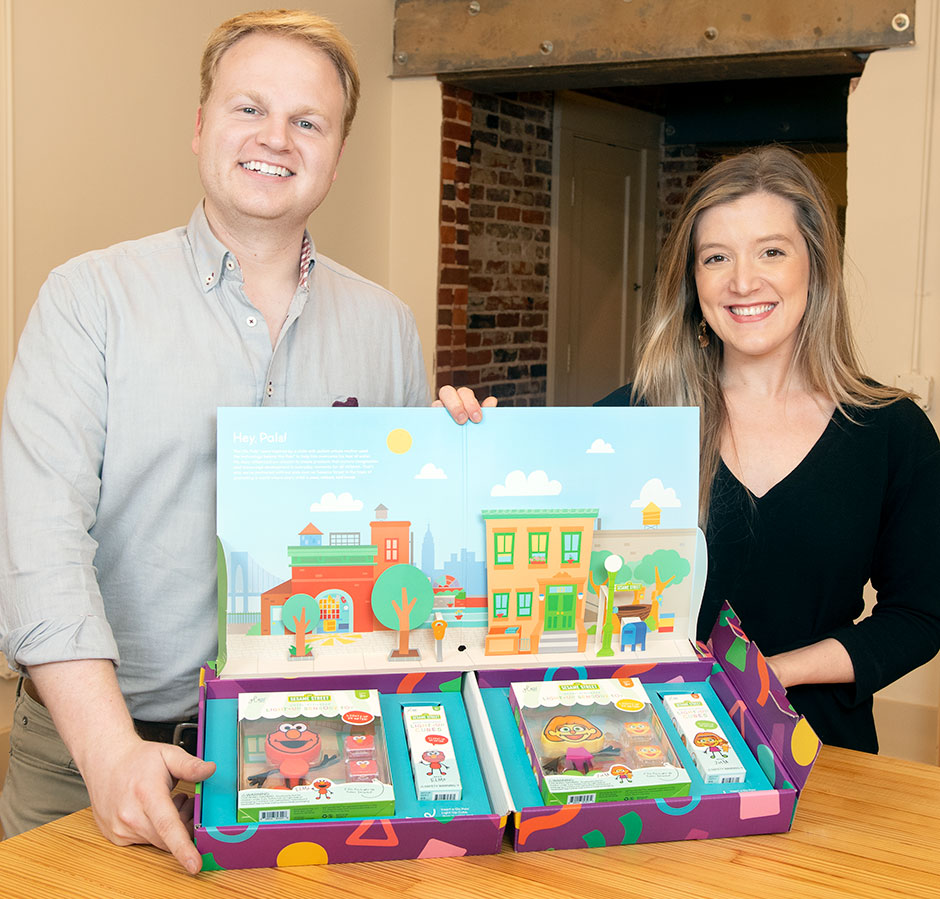 Barker said children at MSU's Child Development and Family Studies Center were the first to test out Glo Pals in an organized setting after the product was introduced in 2018. In October 2019, Barker and Walker befriended a licensing manager for Sesame Street while showcasing Glo Pals at the Dallas Toy Fair.
"When we told her the story behind why we created Glo Pals, she thought we would be a great fit for a partnership with Sesame Street," Barker said.
Barker and Walker later went up to New York and met with the team at Sesame Workshop—the nonprofit behind Sesame Street—to discuss the possibility of working together to create a new Glo Pal of Julia, a yellow Muppet with a purple dress who helps raise awareness of autism.
Barker explained that Julia is part of "Sesame Street and Autism: See Amazing in All Children," a nationwide initiative to provide resources and support for families of children with autism ages 2 to 5. One in 54 children in the U.S. is diagnosed on the autism spectrum, according to the initiative's website.
"There are so many wonderful brands in the toy industry, but when I think of one that aligns with our values of education and inclusion, who could be better than Sesame Street?" Barker said. "The people there have been so kind, and they have never treated us like we're a small company. We're proud to work with a show that has been a real pillar for children for more than 50 years."
To develop Glo Pal prototypes for the Elmo and Julia characters, Barker and Walker said they had to do their Sesame Street homework. Both watched episodes and read books from the beloved children's show to fuel their creative spirits.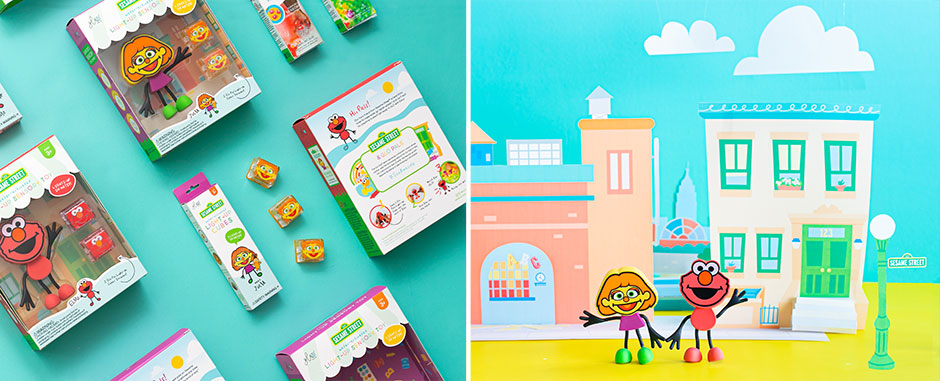 "Hagan and I both watched Sesame Street as kids and to have the opportunity to work with a brand of this scope is special," Barker said. "During one of the episodes we watched, Elmo was introducing Julia to the other characters. Some of them become a little startled or don't understand why Julia is doing what she does, but the show does a great job of explaining why she reacts differently in a way that kids can understand and identify with."
Barker and Walker said neither have a personal connection to autism, but they are continually moved by correspondence from customers who do. Walker said the Glo team enjoys receiving notes from parents whose children have benefitted from using Glo Pals at home, as well as teachers who have found success in using the light-up toy for sensory activities in their classrooms. He said the company donates a portion of proceeds from each Glo Pal product sold to Blair E. Batson's Children Hospital, the only children's hospital in Mississippi. Glo also offers a Glo Pals character named Blair.
"One of the first big personal notes we got was from a foster mom who had two children, one with special needs and another being treated for a terminal illness at Batson's," Barker recalled. "She said, 'Literally from every angle, this product is special to me.' That was incredibly moving and humbling."
Reflecting on the continued success of Glo Pals, Barker and Walker said they have many people to thank, including friends across the Mississippi State campus.
"We tell people all of the time—we wouldn't be here without the E-Center," Walker said of the university's Center for Entrepreneurship and Outreach. "The first samples of our Glo cubes were developed in a walk-in closet before we went to the E-Center. We got funding through the E-Center back in 2015, and they helped us purchase a 3D printer to make prototypes. They've been involved every step of the way."
Barker said she and Walker are especially grateful for Jeffrey Rupp, Eric Hill and Sharon Oswald. Rupp serves as the MSU Division of Business Research's outreach director; Hill, director of the entrepreneurship center; and Oswald, dean of MSU's nationally recognized College of Business.
"We can't say enough good stuff about MSU. Eric has been a soundboard for us, even on weekends and evenings," Barker said. "He helped connect us to the wide-ranging alumni network and university facilities, including the Idea Shop on Main Street in Starkville where we created and printed the first 3D model of Julia."
Barker said she and Walker both had job offers when they graduated, but they wanted to stay in Starkville and keep the Glo startup going because of the community cheering them on year after year.
"We have Mississippi State to thank for that," Barker said. "The people at the E-Center and the College of Business told us, 'Whatever you want to do, start learning right here and we'll help you get there.'"
Walker agreed that his decision to attend MSU and remain in Mississippi following graduation has been worthwhile.
"I knew from a young age that I wanted to do engineering and as the top engineering school in the state, MSU seemed like a good fit. I didn't think I would stay so close to home, but I'm glad I made that choice," he said. "It's cool to see how far we've come."
By Sasha Steinberg, Photos by Hunter Hart, Beth Wynn and Submitted