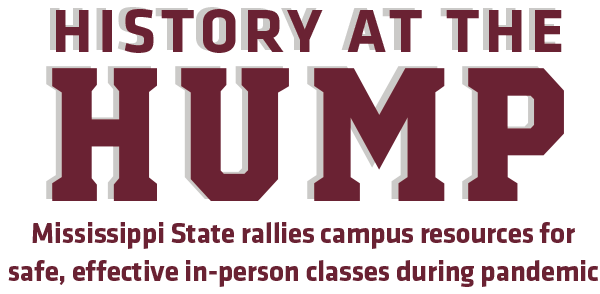 As students filed into Humphrey Coliseum one October day last fall, they passed familiar murals of Bulldog basketball greats while making their way into the arena to the rhythm of music pumping through its sound system.
The day's soundtrack? "Everyday People" by Sly and the Family Stone, Bob Dylan's "Oxford Town" and James Brown's "Say it Loud."
Much like the modern hip-hop favorites that rev up crowds during the Bulldogs' home games, Jim Giesen said he'd chosen the day's tunes to pep up his audience.
"I like to kind of wake the students up," explained Giesen, who that day tred the court in two-toned Nike sneakers paired with dark denim and a gray blazer. "It gets them kind of engaged, especially when they've trudged over from some other building."
These songs were picked specifically for their connection to what Giesen planned to discuss that day. As the jumbotron proclaimed, he was there for history at The Hump—HI 1073: Modern U.S. History.
An associate professor, Giesen is in his 15th year at Mississippi State, and while he's visited the coliseum for countless games, graduations and other campus events over the years, this was his first time taking charge at mid-court.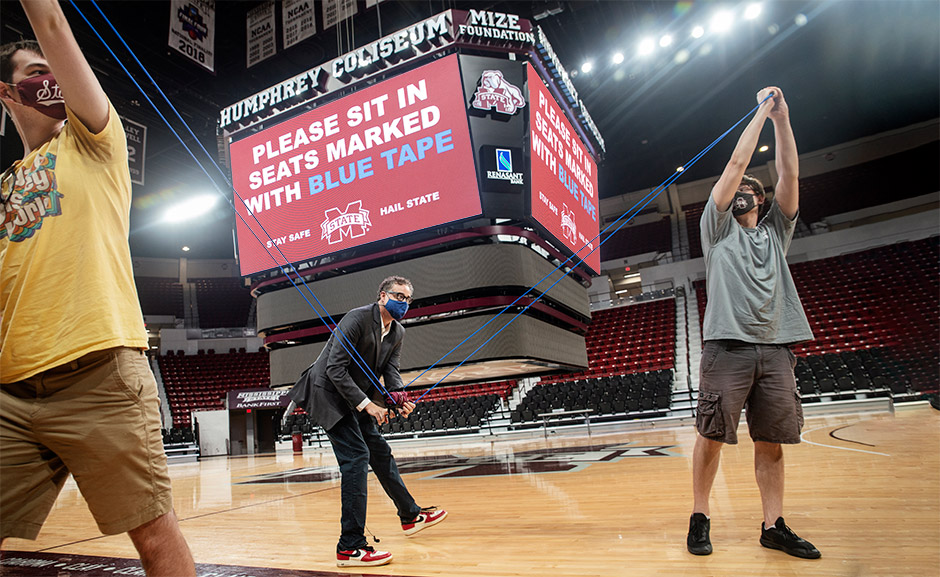 Associate Professor Jim Giesen prepares to slingshot a "Making History in the Hump" T-shirt into the stands during his modern U.S. history class. The history department provided the shirts to both commemorate the unusual circumstances of the semester and help engage students during lectures.
"I usually teach this class in one of the very large lecture halls, where I can walk up and down the aisles and make eye contact with people, so teaching in The Hump has been an adjustment," Giesen said. "But when they called in late spring 2020 to see if I'd like to give it a try, it was easy to be like 'sure, that sounds great' if that was what it would take to get us back to face-to-face classes for the fall."
Rating as one of the university's largest courses, with a maximum enrollment approaching 800, Giesen's modern U.S. history course posed a unique challenge when MSU administrators made the decision to have as many in-person classes as was safely possible during the COVID-19 pandemic. But through a combination of ingenuity, resourcefulness, flexibility and collaboration, the campus community was able to return to its home in August 2020.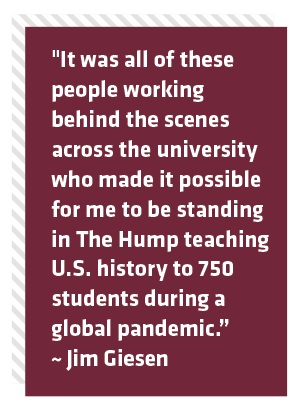 Things looked different and campus felt different, but the Bulldog family came together to maintain its high academic standards and fulfill its land-grant mission. Beyond that, MSU Vice President for Student Affairs Regina Hyatt said the university cannot trace any COVID-19 infections from the fall of 2020 to any classroom experiences on campus.
"Thanks to the diligence of our students and employees, classrooms have proven to be safe for in-person instruction," Hyatt said. "All of the mitigation efforts we put in place—physical distancing, mask wearing and sanitizing regularly—all worked to ensure that classroom spaces were as safe as possible.
"Our faculty also have been creative in adjusting their in-person class experiences to ensure the optimal, safe learning environment," she continued.
Giesen said he was humbled when he thought about all of the planning and daily work that went into making it possible for him to not only safely teach face-to-face during the pandemic but also deliver online instruction for those kept away by COVID concerns.
"The fact is, when we went home for all-online classes in the spring, there were hundreds of staff who were still on campus working to make sure we were able to do that and planning for how to get us back to face-to-face as quickly and safely as possible," Giesen said. "They are the unsung heroes.
"It was the Office of the Registrar rearranging the entire class schedule, it was ITS rewiring every classroom, it's the janitorial staff that's coming in before and after every class to sanitize everything," he continued. "It was all of these people working behind the scenes across the university who made it possible for me to be standing in The Hump teaching U.S. history to 750 students during a global pandemic."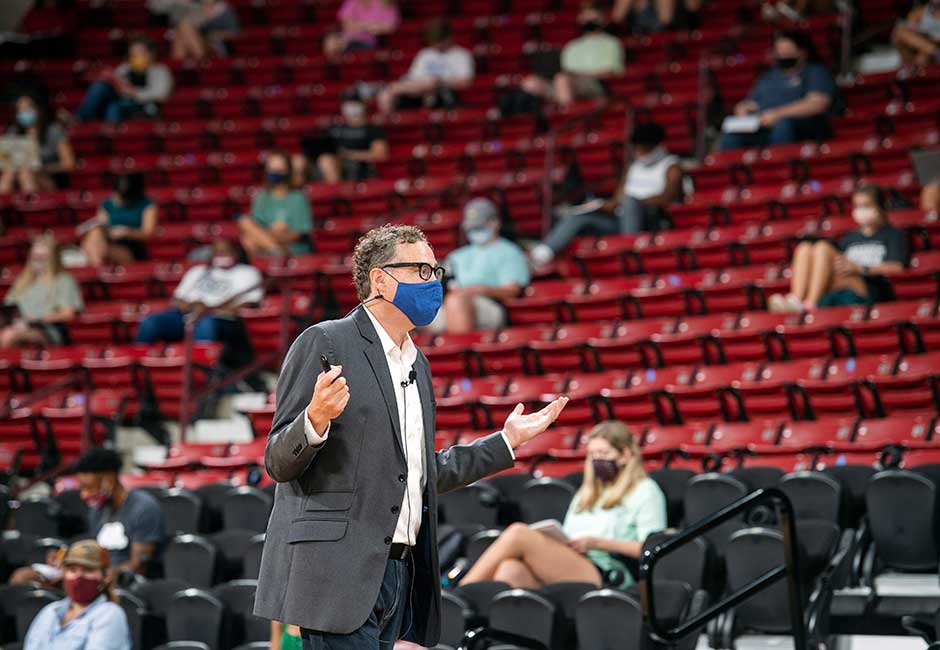 As one of the university's largest courses, with a maximum enrollment approaching 800, modern U.S. history posed a unique challenge for pandemic protocols like physical distancing. Employing a non-traditional venue like Humphrey Coliseum as a classroom space helped MSU provide in-person instruction while protecting the health and safety of the Bulldog family.
LOCATION
Provost David Shaw said even as the university moved to remote instruction in March 2020, administrators were beginning to plan for the eventual safe return to campus.
"Our faculty did a terrific job making the switch to online, but we are the type of institution that thrives on the personal touch," he said. "Some form of face-to-face instruction is a vitally important element of the experience that makes us a Bulldog family.
"We knew we wanted to maximize the number of in-person classes we could offer in the fall, but at the same time, we knew we needed to be scrupulous in taking care to follow all of the health protocols," he continued. "To make that happen, we had to quickly evaluate all available space on campus to see what our options were."
Among the safety protocols recommended to prevent the spread of COVID-19, physical distancing in classroom situations proved to be the most complex for the university. Shaw said a cross-university team was assembled to see if Mississippi State could feasibly accommodate its student body safely. This included considering many out-of-the-box ideas like setting up tents or even utilizing Old Main's parking garage for instructional space.
"We considered every open space—indoors or out," Shaw said. "Of course, we also had to consider what would be realistic in terms of technology, accessibility and even comfort. For example, having outdoor classes during a Mississippi August just wouldn't work."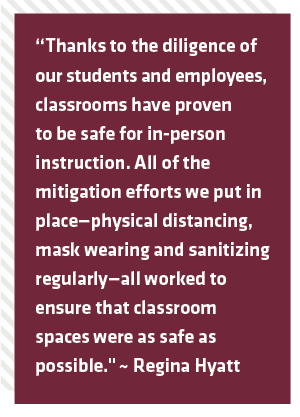 Ultimately, the team identified a combination of athletic, recreation and performance venues that had the accessibility, space and technological possibilities necessary for a classroom. In addition to Humphrey Coliseum, other venues tapped as non-traditional classroom spaces for fall 2020 included the Newell Grissom Building, the M-Club at Davis Wade Stadium, Griffis Boardroom at the Palmeiro Center, gymnasiums and studio space at the Sanderson Center, the Colvard Student Union's Foster Ballroom and Bettersworth Auditorium in Lee Hall, as well as spaces in the Bost Extension Center, McComas Hall, Memorial Hall and the Mitchell Memorial Library.
Jay Logan, MSU's executive senior associate athletic director for internal and game operations, said the search was exhaustive and included locations both on campus and off.
"We started with a list of facilities and really just went through each space with academic and ITS officials to see if it met the needs of a classroom," Logan explained. "Some might have the necessary space, but not have available parking or be able to support technology.
Logan said the athletic venues were a natural fit as they are designed for hosting events and programs.
"That's what we do," Logan said. "We were happy to welcome the students for class much like we'd welcome fans for events. We wanted to make sure the student experience wouldn't be disrupted any more than it had to be. Making this happen really has been a campus collaboration with the provost office, the registrar, event services, facilities management, ITS and athletics—-a family taking care of each other to make this a good experience for everyone."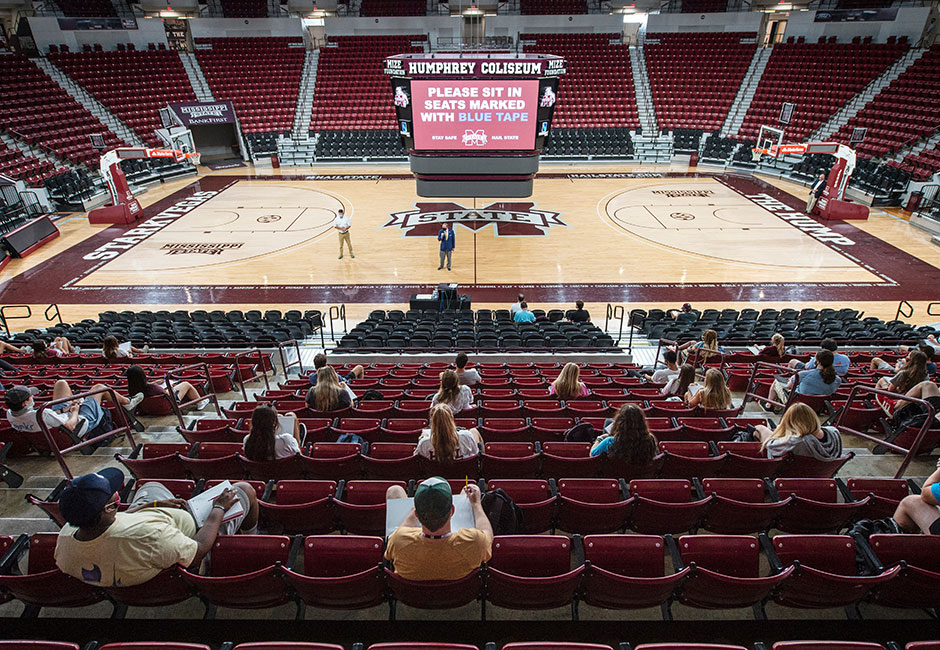 MSU President Mark E. Keenum addresses Whit Waide's American government class as it meets in The Hump to accommodate class size and COVID-19 safety needs.
Shaw said that the creation of these non-traditional classrooms allowed approximately 70% of the university's classes to have at least some face-to-face element—the highest percentage of any college or university in Mississippi. He said the feat likely also contributed to the university's sixth consecutive year of enrollment growth.
"When we announced that we were going to have face-to-face classes in the fall, we immediately saw a jump in enrollment," Shaw explained.
Across the country, the pandemic is blamed for a decline in enrollment at many universities. In the Magnolia State, MSU was one of only two institutions to see enrollment growth in 2020. A total fall enrollment of 22,986 rates a 3.4% increase over 2019.
MSU President Mark E. Keenum said there are several reasons for MSU's continued growth, with the most important being the response from faculty, staff and administrators to innovate, adapt and collaborate for the good of the student body.
"Since the inception of the COVID-19 pandemic, we have had a deep commitment to the health and safety of our students while ensuring we continue our high-quality academic offerings that lead to student success," he said. "Our growth is a testament to the dedication and hard work of our faculty and staff and the courage and fortitude of our students and their families. The Bulldog family has never been stronger."
John Dickerson, assistant vice president for enrollment and university registrar, agreed.
"Not only is enrollment up but retention is up, which means more who were enrolled last year came back to us," Dickerson said. "I think a big contributing factor to that is all of the work that was done by so many people to give our students as much of a normal experience as possible, and as many options as possible, during such extraordinary times."
MSU administrators identified many large performance or sporting venues across campus that could be adapted for classroom needs during the pandemic. Here, students engage in face-to-face instruction for an introductory animal and dairy science course in MSU's volleyball gymnasium, Newell Grissom (1); a Professor Dongmao Zhang-led chemistry course in McCarthy Gymnasium (2); and a calculus class with instructor Abigail Good in a Sanderson Center gym (3.)
CONNECTION
Among the options that Dickerson said likely influenced enrollment was the ability for students to pick the learning model they felt safest and most comfortable with—whether traditional face-to-face instruction, online only or a hybrid of the two. Of course, with mere months to adapt each delivery method to the changing demands of a pandemic, providing these options was not an easy task.
Much of the success of Mississippi State's ability to continue to meet the needs of the Bulldog family came down to its digital infrastructure and the know-how of MSU's Information Technology Services.
"Ultimately, we wanted to protect the student experience, help the faculty and support the administrative duties of the university," explained Steve Parrott, the university's chief information officer and director of ITS.
Parrott said that in March, his unit worked with MSU's Center for Distance Education, Center for Teaching and Learning, and University Libraries to provide "crash courses" for faculty in how to use Canvas—the university's learning management system—and Cisco's Webex video conferencing software, which helped faculty transition their courses online.
While that helped address the immediate needs of continuing to provide instruction during pandemic lockdown, Parrott joined with other university leaders in looking ahead. His main concern: cameras, laptops and other technology that would help facilitate hybrid or distance learning as the pandemic wore on.
"You have to remember that everyone in the academic world was in need of the same things. We had to act fast," Parrott said. "At the time, in late spring, we didn't even know when we'd be back face-to-face, but we had initial discussions with Dr. Shaw about how to have the biggest impact for the fall. We decided that cameras and the associated technology would give us the biggest bang for our buck.
"Getting video in those classrooms would prepare us for whichever way things went," he continued.
Still, even with orders placed by late May, kinks in the supply chain led to shortages and delays across the board.
"Last summer, you could not buy cameras online," Parrott recalled. "Laptops, everything was backordered because demand was so high. But we had to keep planning and building the infrastructure to make everything work once it arrived."
While waiting for equipment to ship, ITS moved forward with running nearly 29,000 feet of network cable into approximately 170 classrooms to support new equipment. The unit also began designing the technology that would drive the non-traditional classroom spaces.
"These spaces had never been used for teaching, it wasn't their intended purpose, but we had to equip them to give students and faculty a reliable classroom experience from a technology perspective," Parrott explained.
The solution was custom-built technology PODs—portable cases that contained a computer, wireless microphone receiver and beltpack, camera, and sometimes speakers, projectors, document cameras and other items depending on the needs of the location or instructor.
"You can't buy these PODs online," Parrott said. "These were designed and put together by the ITS team to meet Mississippi State's specific needs. They could be deployed to any location and, from the user's perspective, would work very similarly to the networked, ITS-supported lecterns we have in traditional classrooms."
For faculty teaching in the non-traditional classrooms, it was as simple as booting up the equipment and beginning a presentation much like they would in regular classrooms. However, the addition of a camera allowed the lectures to be recorded or streamed for students attending remotely.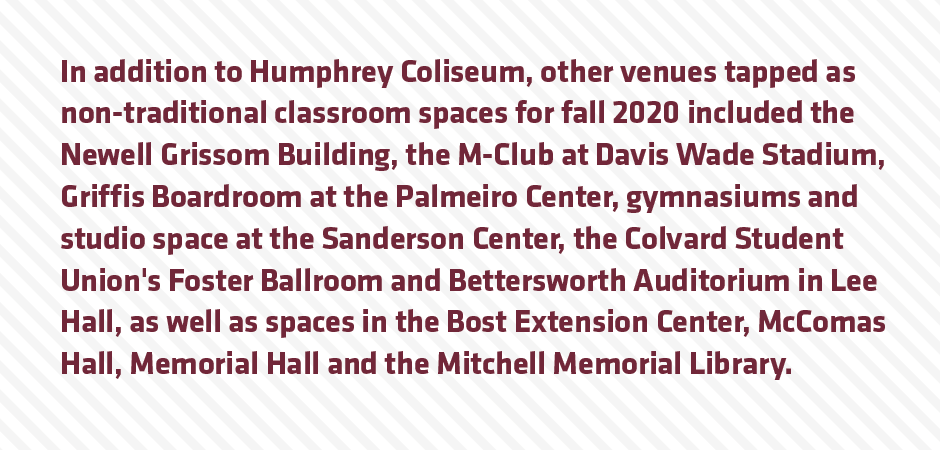 Parrott said the ITS team used a room in Allen Hall as the staging area to build the PODs. They tested the gear in Allen classrooms as the necessary parts arrived, which it did just in the nick of time. With classes scheduled to begin Monday, August 17, the cameras and projectors—-which had been ordered in May—arrived the afternoon of August 13. The critical equipment that converts camera signal into something readable by a computer arrived August 14.
"Shipments weren't arriving in boxes, they were coming on pallets," Parrott said. "Our audio/video team, as well as many other ITS personnel, spent the entire weekend before classes putting together and testing pods and getting cameras into classrooms."
All told, ITS ordered more than 200 cameras, 50 laptops, materials for 30 pods and more than $15,000 worth of batteries, among other purchases necessary to make pandemic learning possible.
"The money MSU has put into campus technology over the last nine months is phenomenal," Parrott said. "I've spoken to other Southeastern Conference schools and we beat them hands down. Our faculty now have amazing teaching technology at their fingertips.
"And it's important to know, these weren't panicked purchases to just get us through the pandemic," he continued. "These were deliberate, thoughtful choices that will not only get us through this but set us up for success down the line."
FUNCTION
In addition to equipping both non-traditional and traditional classrooms with the hardware necessary for virtual and in-person learning, ITS also had to create software and user interfaces to help serve the university community, such as a GPA calculator for those considering pass/fail instead of traditional letter grades and a system for students to apply for COVID-relief funds and spring fee reimbursement.
ITS also created computerized models to help administrators coordinate fall semester classes to incorporate new class locations and times while causing the least disruption to students' already-planned schedules. This monumental task of essentially replanning all of the university's 5,445 fall courses fell to the Office of the Registrar.
"Planning the master class schedule for a fall semester is usually a four-month process," explained Dickerson, who leads the registrar's office. "By the time we knew what the rules would be for COVID, we had a little over a month to redo the entire fall plan.
"We also had to deal with the fact that students were already enrolled, with their schedules in place," he continued. "So, I can't overemphasize how big of a task this was and how well our scheduling team and partners across the university rose to the challenge."
Not only did the new schedule have to account for changes in venue as lectures moved to larger spaces, but it also had to help facilitate lower hallway congestion during class change, intensive sanitization of classrooms between classes, and increased travel times due to the use of non-traditional classrooms located on the fringes of campus.
To accommodate those needs, Dickerson said the university decided to increase the time between classes to 20 minutes which, while necessary for coronavirus precautions, also created scheduling conflicts.
"We ran models to identify conflicts in scheduling and worked those through so the number got smaller and smaller until we were able to work with departments and individual students to find solutions," Dickerson said. "It's all a big puzzle."
Dickerson said the 20 minutes between classes was a sweet spot. It provided enough time for one group to leave, janitorial crews to complete sanitization, and the next group to arrive and settle in for class.
Les Potts, associate vice president for administration, said it was amazing how efficiently teams worked to turn rooms over between class sessions. He explained that a financial analyst created a class-schedule spreadsheet to understand the complexities of the changeovers.
"We identified nearly 600 spaces that would need to be addressed on a daily basis, some more than once," Potts explained. "Our custodial teams were able to do that with a staff of about 115 full-time employees. They had to really have a handle on the building usage schedules and the tasks that needed to be accomplished."
To facilitate quick but thorough sanitization, the university purchased hydrostatic backpack sprayers which can be used to quickly apply a peroxide-based virucide to all classroom surfaces in between uses. These are also used in communal spaces—-such as Mitchell Memorial Library, Perry Cafeteria, and the Colvard Student Union food court and study areas—throughout the day. Sanitizing wipes, gels and sprays were also distributed around campus, and are regularly refilled, for use by individuals who wish to clean surfaces before use.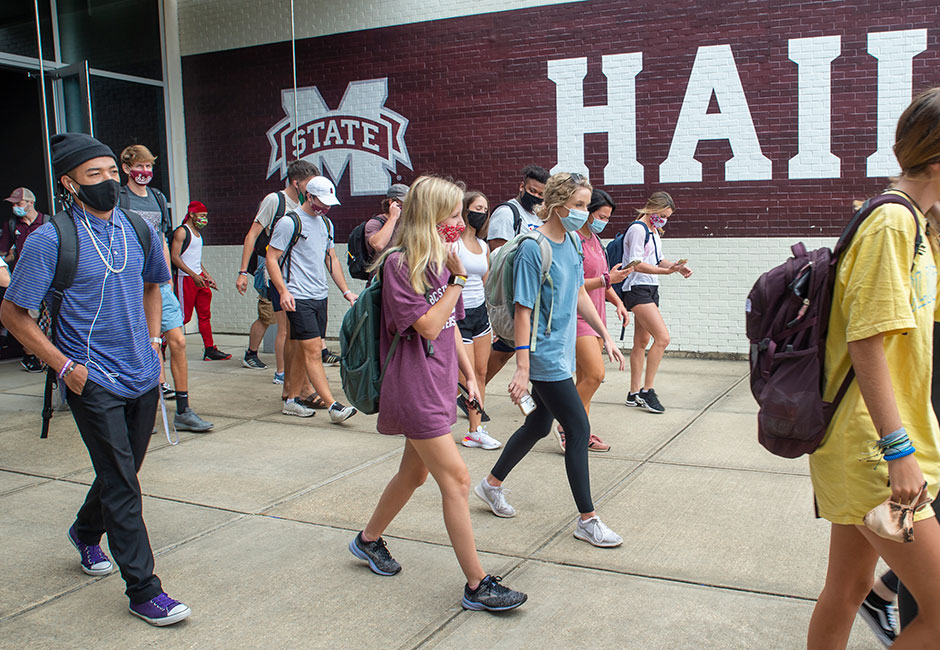 Students exit "The Hump" after a morning class. The Division of Athletics partnered with the Office of the Provost, Information Technology Services and other university units to make MSU's largest indoor venue compatible for face-to-face teaching.
Potts explained that the university moved quickly to purchase personal protective equipment and sanitizing agents—hundreds of thousands of items to enhance the safety of faculty, staff and students. MSU also constructed more than 1,500 plexiglass shields for high-traffic offices and reception areas; provided new outdoor seating to help space out diners and study groups; and installed more than 200 feet of temporary sidewalk to encourage safe, distanced travel between buildings—none of which was planned for in the university's operating budget when the fiscal year started.
Federal funding from the coronavirus relief bill, administered by the state of Mississippi and the Department of Education, helped cover the expenditures in certain areas. This, combined with prudent financial decisions at the university-level, allowed Mississippi State officials to do what was necessary without affecting the long term outlook of the institution.
Potts, whose unit is under the Division of Finance and Administration, said the fact that MSU could move quickly to make the necessary purchases and cover the unforeseen expenditures is not only a result of CARES Act funding but a testament to the leadership of President Keenum and MSU's Chief Financial Officer Don Zant.
"Having a president with more than a decade of experience on the job has been invaluable in a situation like this," Potts said. "Not only does he have the trust of the faculty, staff and the university community as a whole, but for more than 10 years, he and Don have been making conservative financial decisions. They could not have predicted this exact scenario, but that conservative approach to spending has put us in a good financial position to weather this storm and the turmoil it has brought.
"Never has this administration spent money just because it was there," he continued. "There is a culture of making deliberate decisions so as to be good stewards of all of our financial resources."
Still, while being fiscally responsible is paramount to all university officials, Raymond Brooks said there has never been any doubt that the administration fully supported, "whatever we need to do to get students back on campus safely."
"I cannot say enough positive things about the people I've had the opportunity to work with all the way to the president's office," Brooks said. "It's been amazing to watch the university come together and see the amount of coordination that has gone into all of this. It's things most people never see, but that's what we call the Disney effect: if they don't see what we're doing, if they don't see how the magic happens, then it means we're doing our jobs well."
As associate dean of students, which includes oversight of the Colvard Student Union and MSU Event Services, Brooks and his staff not only helped host classes in innovative spaces but also provided audio equipment, tables, chairs and other necessities to establish other non-traditional classrooms across campus. His unit also houses some of the university's busiest campus-dining options and serves as a hub for many students needing a place to study or log-in to an online class while on campus.
Though he admits he, like most people, experiences a certain amount of "pandemic fatigue," he said all of the work, stress and worry has been worth it to give students the campus experience that is such an integral part to university learning.
"The student experience is so much more than academic learning," he said. "It's learning to work with others, being social and knowing that when you leave here you'll be able to work with whoever is in the office next door.
"When you work here every day, you understand the importance of being immersed in a global culture and exposed to new things, and I can't think of a better place than a college campus to get those kinds of experiences."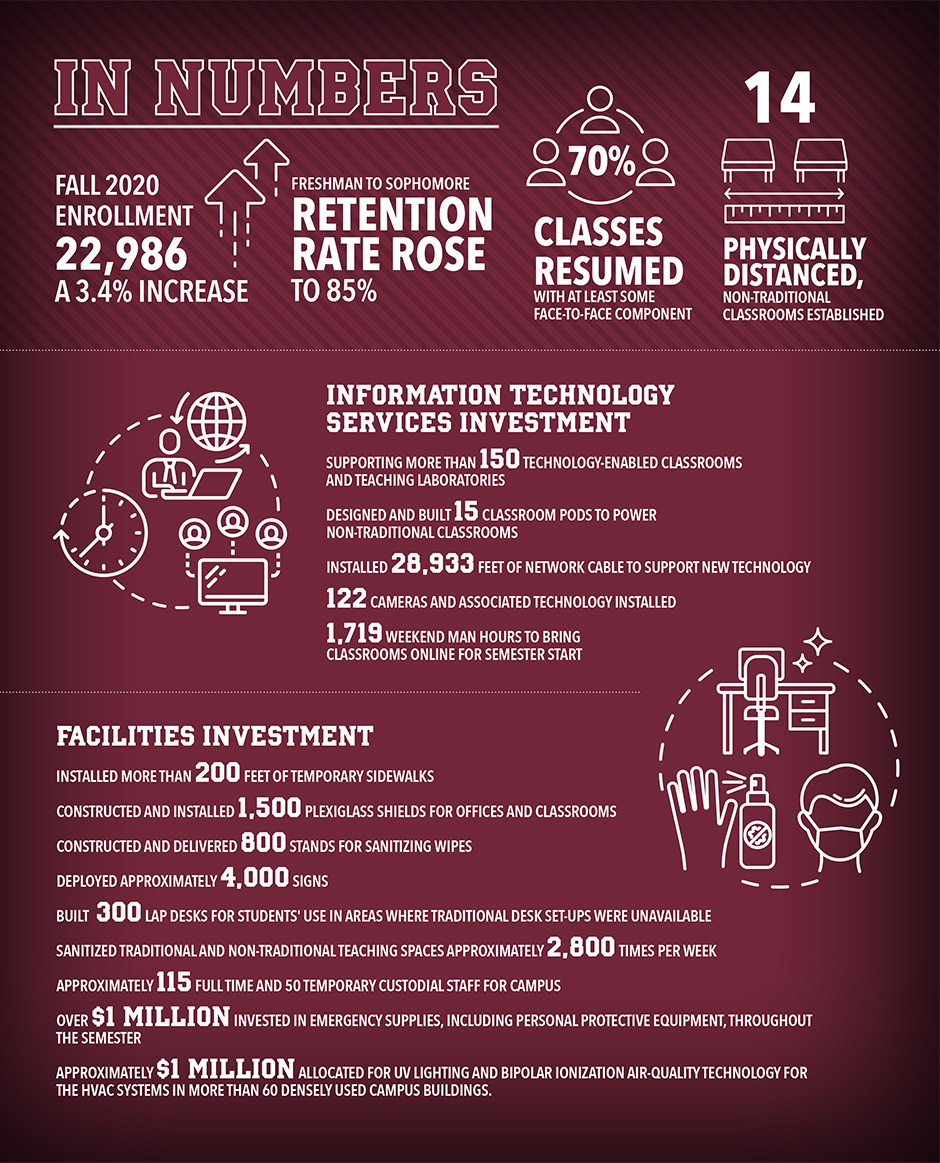 By Susan Lassetter, Photos by Megan Bean & Beth Wynn
---