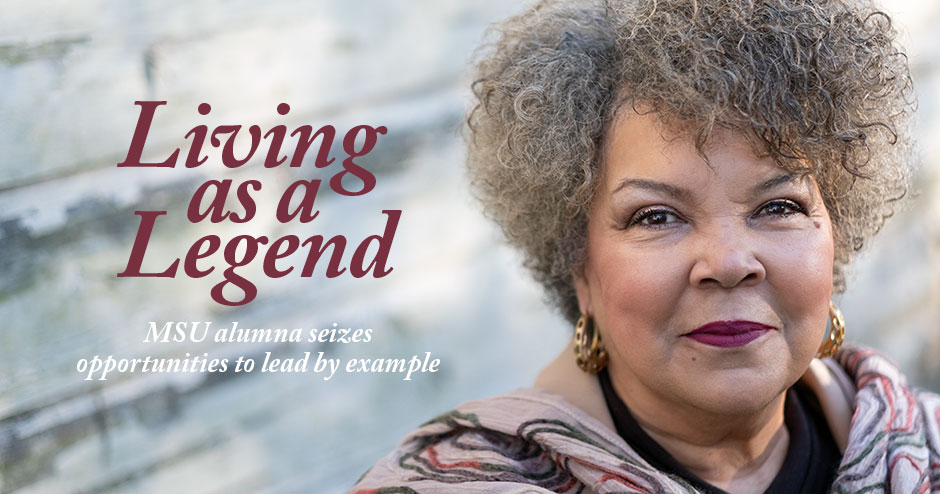 Judy Alsobrooks Meredith has led a remarkable life as a classical pianist, television anchor and professor. She also happens to be married to Mississippi legend James Meredith, but that's not the beginning or end of her story.
Born in 1949 to an unmarried, biracial couple from Iowa, Judy was adopted by an Indiana family when she was 3 years old. While national attitudes at the time undoubtedly led to her being put up for adoption, she says she grew-up largely insulated from the turmoil of the civil rights era.
"My parents were very protective, and our Black community had its own bubble," Judy recalled. "We had our own businesses and grocery store. Really the only time we saw white people was if we went downtown or to a department store. You never talked about race, but you did hear about it in passing.
"I guess that was my first perspective of race in America," she continued. "My parents would just turn on the TV news and that's how I saw the news of the day. And that's how I learned about James Meredith."
James gained national attention when he became the first African American to enroll at the University of Mississippi, which sparked riots that resulted in two deaths. Judy said she can recall watching news coverage of the events from her Indiana home when her father would turn on the television and say, "Well, let's see if James Meredith survived another day."
Still, she said it wasn't until she enrolled at Lincoln University, a historically Black university in Jefferson City, Missouri—-outside of the "protective bubble" created by her parents—that the civil rights movement became more personal to her.
"My parents were very protective, and our Black community had its own bubble. We had our own businesses and grocery store. Really the only time we saw white people was if we went downtown or to a department store. You never talked about race, but you did hear about it in passing." ~ Judy Meredith
Raised by a piano teacher, and a gifted musician in her own right, Judy could read music by the time she entered kindergarten. As a fourth grader, she played the pipe organ at her Catholic school in Gary, Indiana, despite the fact that her feet didn't reach the pedals. She later served as accompanist for three choirs at the Methodist church around the corner from her home.
This love of music led her to earn a bachelor's in the field from Lincoln in 1972. She soon began teaching music at a school in Maywood, Illinois, a suburb of Chicago about an hour's drive from her hometown. During that time, she often heard of the Merediths—James, a native of Kosciusko, and June, his wife who was also from Gary.
"My friend used to tell me, 'I really want you to meet June Meredith. You guys remind me of each other,'" Judy recalled. "June actually went to the same high school as me but she was older, so I never knew her and actually never ended up meeting her because, unfortunately, she later died of a massive heart attack.
"Several years later, I was in my friend Carrie's kitchen when her husband Tommy went to answer the door," she continued. "I heard him say, 'James Meredith. I've got a single woman in here I want you to meet.'"
James had driven to Indiana from Jackson to attend a funeral with his good friend Tommy. It was just a fluke that Judy was there when he arrived.
"He told me years later that when they walked into the funeral, he looked at the casket and said, 'I can't do anything for this man here. Take me back to that woman at your house before she leaves,'" Judy said with a laugh.
A passionate long-distance relationship followed, and two and a half months later, in February of 1982, they were married in the house where they met. It was then that Judy first stepped foot into Mississippi—something she didn't think she would ever do.
"I had never been to Mississippi in my life and had never thought I would simply because it had such a terrible reputation," Judy admitted. "I can tell you I was quite impressed when I arrived. If you're not from here and all you know is its history, you don't expect to see the good. But I saw Black people with beautiful homes and Black-owned businesses. And the people—Black and white—were so courteous."
Having grown tired of teaching, Judy decided to use the change in circumstances to further her education. She was torn about whether to study music or mass communication, so she registered for classes in both at Jackson State University.
"I said, 'I'll go with the one that I do my best in,'" she said. "It turned out I got A's in both."
Her love of the news—born all those years earlier in her parents' living room—won out. She earned a master's degree in English with a concentration in mass communication and soon began to make a name for herself on the air as Judy Alsobrooks.
She completed an internship at Jackson's CBS affiliate WJTV and then moved to the city's ABC-networked WAPT. She later continued to build her broadcast career with Ohio's WLWT while James continued to build his legacy as a visiting professor at the University of Cincinnati.
"It was a very compatible situation. He supported me and I supported him," Judy said. "My parents always taught me to follow my dreams and to only rely on my skills and my talents to do it. So, it was never a question of his dreams or mine. It was supporting each other in doing what we needed to do."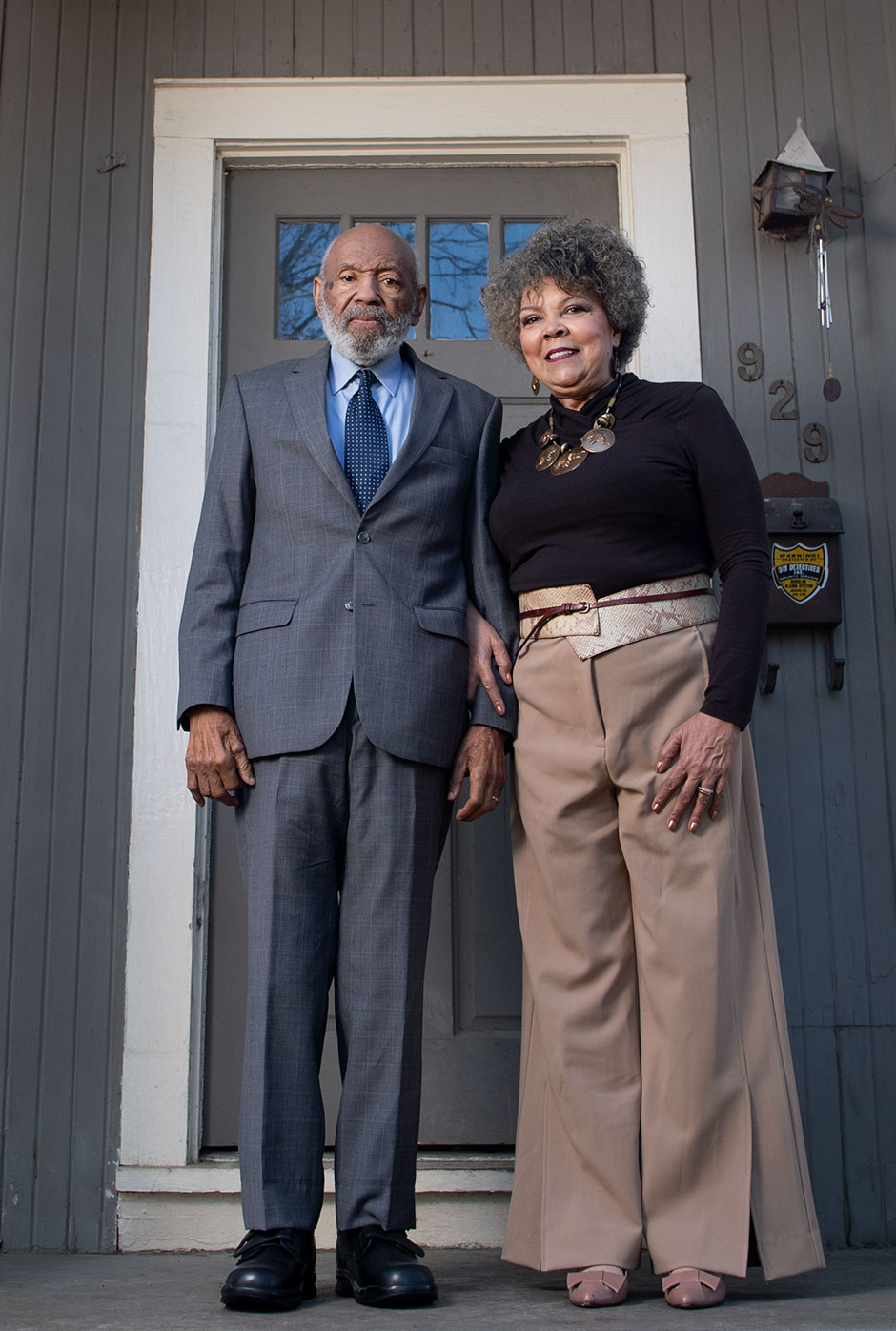 Later, that support involved sustaining a long-distance marriage as different ambitions took the Merediths to opposite coasts. James moved to Washington D.C. to work as a domestic adviser to Sen. Jessie Helms of North Carolina, while Judy moved to San Diego in search of her biological family and to produce a manuscript about the journey. But after two years of bicoastal living, the couple returned to Jackson to make it their permeant home.
Judy worked at Mississippi News Tonight and later returned to WAPT, but after eight years on the air, she was recruited by her alma mater, Jackson State, to develop and manage its campus TV station. While there, she was named a Fulbright Scholar, which provided her the opportunity to travel to Germany to study mass communication. She later served on the National Fulbright Association board of directors and the association's Diversity Task Force.
During that time, she also decided to pursue a doctorate and turned her attention to the Department of Political Science and Public Administration at Mississippi State University.
"I guess it seems I have always gone from one thing to another," Judy said, jokingly. "But it's almost natural for a journalist to have a political science background; it makes you more knowledgeable. And Mississippi State sparked my interest because that program especially had opened its doors to Black students. That diversity was appealing to me because at my age, I didn't feel like fighting battles anymore.
"And I absolutely loved Mississippi State," she continued. "As far as I'm concerned, I'm a Bulldog and when James is out in his Ole Miss hat, I'm right there in my Mississippi State one."
Marty Wiseman, emeritus professor of political science and emeritus director of MSU's John C. Stennis Institute of Government and Community Development, said Judy was "a superstar of the news media" that he welcomed in the two seminar classes he taught while she was getting her doctorate.
"And I absolutely loved Mississippi State. As far as I'm concerned, I'm a Bulldog and when James is out in his Ole Miss hat, I'm right there in my Mississippi State one." ~ Judy Meredith
"She's a delightful person," he said. "She's someone you would want in your class because of the conversations you would have. She probably could have taught the class."
Judy completed her doctoral degree in 2007, and then did go on to teach as an assistant professor at JSU, where she specialized in broadcast writing and urban affairs reporting.
A shared passion for journalism led Judy to cross paths with Donna Ladd, a 1983 MSU graduate who was a member of an advisory committee for JSU's mass communication program.
"I already knew her wonderful husband, but I got to know Judy separately," Ladd said. "She is funny, loves life and people, is exuberant and brilliant, and cares deeply about good journalism, which is what we most have in common. She's now on the board of directors of the new nonprofit Mississippi Free Press, which I lead, and I couldn't be more proud to be working with her in this venture."
Retired from JSU, Judy is now using all of her skills to document the life of James.
"I did a short documentary on James," Judy said. "When he would go somewhere, I would pull out my phone and start recording. I did the music, narrated and wrote the documentary."
She said she finds it interesting to watch history being made, knowing that James played a role in changing America.
"He's always lived ahead of his time," she said of her husband. "I tell people it's an adventure being married to him. You meet a lot of people. You go a lot of places. He's so low key.
"It's been an interesting life," she continued. "He can be funny, and he knows how to dance."
Still, as Ladd noted, Judy's life isn't about being James' wife. She's proud of his legacy and hopes to see it grow through her and her husband's continued work, as well as the work of others.
"She's fully her own woman, which is really saying something considering that she is married to a literal legend." Ladd said. "That struck me as soon as I met her. She and her husband have a truly equal relationship. Neither shrinks in the other's giant shadow and strong beliefs. I picture her at once extremely outspoken and, at the same time, always laughing, which she nearly always is."
Ladd said she respects Judy for how she has remade herself throughout her life, taking hold of the next opportunity, and serving as a role model for all women in Mississippi.
"Like me, she loves Mississippi, but knows that we must face our history and criticize the place we love as needed to make it the best place it can be," Ladd said. "A glorious Mississippi is still ahead of us, and she is a vital part of making that happen, alongside her also very funny husband."
By Nell Luter Floyd, Photos by Megan Bean

---