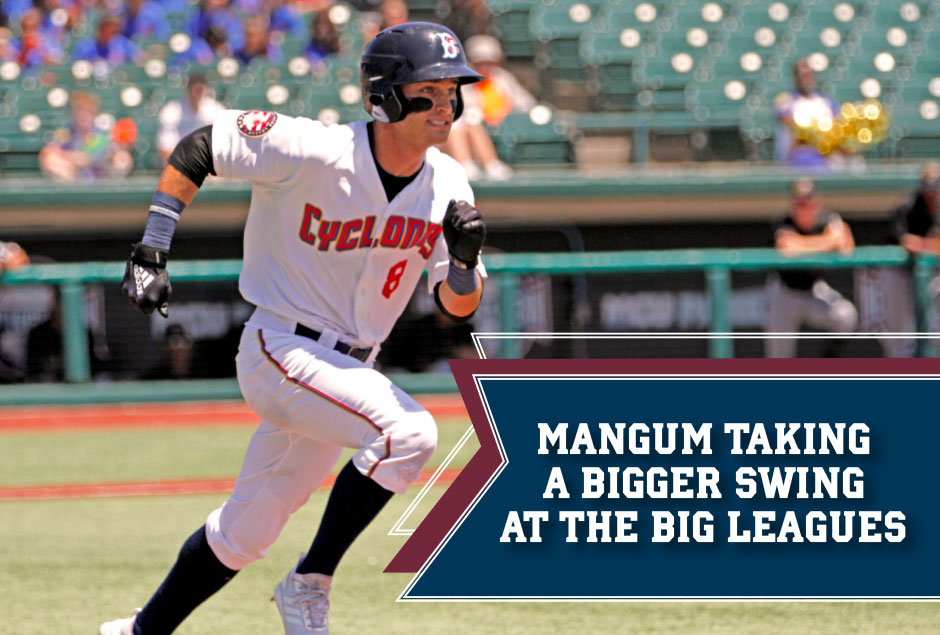 Former Diamond Dawg Jake Mangum now wears No. 8 as an outfielder for the Brooklyn Cyclones, a minor league affiliate of the New York Mets.
He'd have accepted the draft-call from any major league club and gone about business. But Jake Mangum has found another sort of bonus with New York's Metropolitans.
It is the black jersey among the various game-day gear packages.
"The Mets actually do have a black shirt. It's one of their most iconic uniforms," Mangum said.
The man most responsible for adding black to Mississippi State's own ensemble is quite the Diamond Dawg icon himself. All-American, All-SEC, All-Freshman, all everything; record holder and Rebel rouser; heart of a team and face of the program. That's Jake Mangum, No. 15 in the program and first rank among Bulldog baseball greats.
And the still-new professional ballplayer did not let 2020's unimaginable baseball setback slow him down.
"It's very weird, but it's good," said Mangum of the strange spring and summer. "I actually enjoyed it. I've gotten better in areas of baseball I needed to, and in life in general. It's been a very good year, to be honest with you."
Now that is the real Jake Mangum. Never mind his first full minor league season faded to black before first pitch. Mangum stayed the course both in and out of the batter's box, working out in south Florida or Mississippi as available and hoping for a fall mini season. Beyond that, the focus was preparing for February 2021 and true training camp.
This was simply making the most of unexpected opportunity.
"Life is what you make it," Mangum said.
"I could have pouted. Instead, I told my Dad this is going to be the most beneficial year of my life. I'm going to put on some weight and do some things I've never been able to get to. The areas in baseball that I lacked I've been able to get to."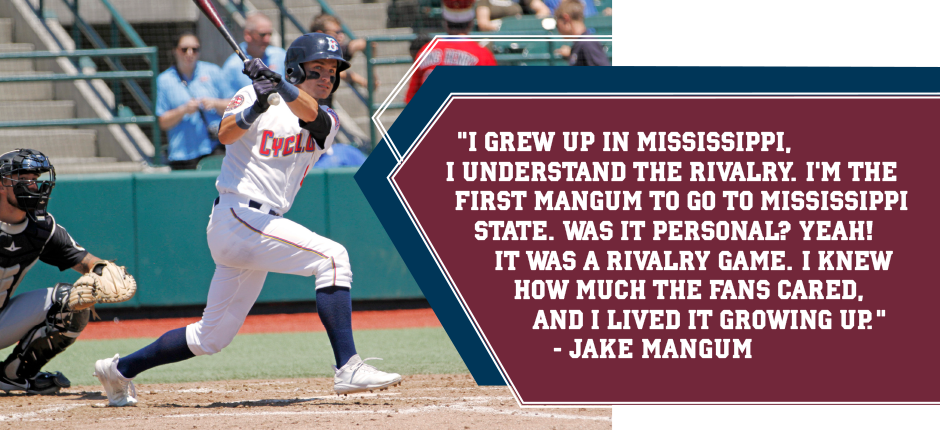 Wearing the Maroon and White, as well as Sunday blacks, there wasn't much lacking to Mangum's game. A consensus senior All-American outfielder, he was a semifinalist for the Golden Spikes Award and Howser Trophy as best college ballplayer in the land. This was after a junior year American Baseball Coaches Association Gold Glove season. Mangum was already an All-American as a 2016 freshman and league-leading batter on the Southeastern Conference championship club.
Speaking of the SEC, Mangum is the first and only four-time All-Conference Diamond Dawg, thrice a first-teamer. He achieved this while playing for four separate coaches, no less. And, if any happen to have forgotten, he left as the all-time SEC base hits champion and fourth-best in the NCAA annals. As for more Mississippi State history, Mangum's name tops five season and career records lists.
Yet Mangum said he happily would still swap all the standards and marks and honors to fill one aching blank line in the resume.
"Never winning a national championship is about the only thing I can take away," Mangum rued. "As a team we went to four Super Regionals under four coaches, that will never happen again."
Not to mention consecutive College World Series trips in 2018 and '19.
"People ask, 'Is the hit record the coolest thing you did?' It was cool, yeah, but if we don't make it to post-season all four years I don't get those at-bats and hits. I'm thankful for the four years. It was awesome."
As was Mangum, though a certain opposing team might use another word.
Mangum may well be the ultimate Rebel rouser, boasting a four-season record of 14-2. His teams won every series, every Governor's Cup, almost every game. Fittingly Mangum ended his own reign of Rebel terror with a sweep in Oxford.
"I grew up in Mississippi, I understand the rivalry," Mangum said. "I'm the first Mangum to go to Mississippi State. Was it personal? Yeah! It was a rivalry game. I knew how much the fans cared, and I lived it growing up."
So, he said, did most Diamond Dawg peers.
"We always had a Mississippi-dominant roster. A lot of guys understood what it meant," he recalled.
Just how deeply did this first-generation Bulldog grasp the rivalry?
"I remember my first-ever Ole Miss game. I got to the field probably six hours early, just giddy. An upperclassman walked in and said, 'Hey, man it's just another game.' I said, 'No, it's not just another game.' And that was my first home run that day! It was pretty cool."
Mangum is working to develop even more punch at the plate. In a short post-college season with A-ball Brooklyn he had 45 hits in 53 games, and a team-best 17 steals. Last February, invited to the Mets' Major League camp, he notched his first base hit off a big-league pitcher.
But a healthy career means also getting stronger by getting bigger. Like, 10 pounds bigger in honest baseball muscle added to his 6-foot, 1-inch frame.
"I'm very, very happy about that. I'm almost 200 pounds for the first time in my life," Mangum bragged. As to more technical aspects, "I changed my swing, tweaked it I'd say, to something more impactful. arlier in the count I'm looking to do more damage now."
This from the top-of-order terror who hacked at any first offering near enough the zone? An early swinger who'd have gone after warm-up pitches if allowed?
"I was looking to put the ball in play and run. Which worked," Mangum noted, correctly. At least it did in college against anxious starters who knew this Bulldog was coming after them.
"But there comes a point in time I need to adapt, not lose what I'm good at, and pick up things I was lacking. That's what I've done," Mangum said.
That work goes on into 2021 when baseball life returns to normal with a stronger, sharper swinger ready for that first full professional season.
"I think when I look back on my baseball career this will be one of the most beneficial years I've ever had," Mangum said.
He even used the downtime to develop another game of sorts. He crossed the foul line to join the media mob. "The Jake Mangum Show" podcast was an instant hit. He also cut advertisements for statewide airwaves.
"Just doing things I might want to do after baseball to see how it goes. I might do broadcasting one day," he said.
If broadcasting or commentary doesn't suit his post-career tastes Mangum said he absolutely can see himself coaching college baseball.
"That's what I want to do, but we'll see," he said. "Ron Polk has talked to me about that as many times as he can. I love that man. He's the best."
Quite a few folks regard Mangum as the best ever to patrol center field and bat leadoff in a Bulldog uniform. By the way, how did he settle on his No. 15?
"Destiny," he said with a shrug. "Just a number assigned to me."
More famed than the every-game number was the once-a-week uniforms Mangum and club made their trademark. The Sunday "NickelBlacks" weren't intended to be special. It just worked out that way.
"On Sundays Coach Cohen preached energy," Mangum explained. "Noah Hughes' way was to blare Nickelback on Sunday mornings, we jammed to it and got energy pregame. My junior year we said we have to start wearing these black uniforms, it's nasty. NickelBlack just kind of hit. You can say what you want, there was something about them. We didn't lose a game."
That's a fact. In 2018 and 2019 regular season Sundays—or Saturdays if the series started early—the Bulldogs went undefeated. Even the most devout Maroon and White loyalist came around with time and with wins to accept the non-traditional outfits.
"And our last home game was in blacks," Mangum recalled of the Super Regional rout of Stanford to earn a second-straight Omaha ticket. "I don't know, all we had to do was win the national championship and you couldn't have scripted it any better."
Even if his Mississippi State script went unfinished, Mangum's legend is complete and permanent. Now he is swinging away in a bigger league with greater ambitions. Though the early innings were interrupted, it is a longer game Mangum is playing.
"I'm a guy that believes everything happens for a reason."
By David Murray, Photos Submitted
---

In the 2010s one number set the pace. No. 15 was No. 1 in Bulldog hearts as it was shared by a trio of Mississippi State stars.
Dak Prescott, Jake Mangum, and Teaira McCowan were the faces of their teams, of Bulldog athletics and even an entire university. On fields and courts across conference and country, all wore No. 15 and all in historic style.
Prescott (2011-15) set the tone and, for Bulldog football, a record pace. His name still stands first for game, season and career records in: touchdowns-responsible, total yards, passes completed, passing percentages and interceptions rate.
Prescott led his 2014 Bulldogs to the program's first-ever No. 1 ranking. And, for the only "statistic" that counts for a true quarterback, his four varsity falls notched 34 wins, matching the most successful such span in Mississippi State history.
And in perhaps the ultimate attribute of a legend, he is ever and instantly known everywhere as just Dak.
If Dak directed State to top of the rankings, McCowan (2016-19) powered consecutive teams to within a win of consecutive national championships—or within one shot in the heart-wrenching 2019 case, a shot Big T with 271 blocks could only watch.
A slow starter, McCowan blossomed into a two-season all-star. She stands fourth in career scoring and first for rebounding, holding the SEC's single-season standard for board-work. Her 70 double-doubles will never be matched at MSU. The career ended with consensus All-America honors.
Mangum's own 2016-19 feats complete the all-star triangle and seal the status of No. 15 as a magical Maroon and White number of the past decade.
There is another, less-digital, symbolism though. Louisianan Prescott, Texas lady McCowan, and home-state man Mangum reminded that whatever their native addresses these Mississippi State greats made themselves at home in Bulldog Country. Forever.

---