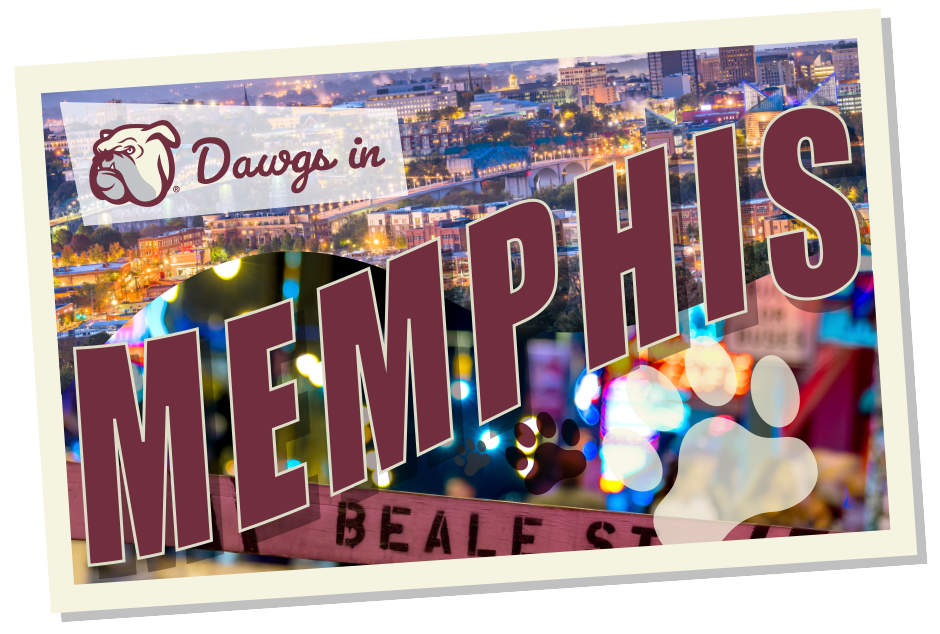 In a city that's known for the Blues, Mississippi State alumni are keeping Maroon and White top of mind. With nearly 6,000 alumni in the area, Bulldogs are leaving a mark in Memphis, Tennessee.

---
Training Days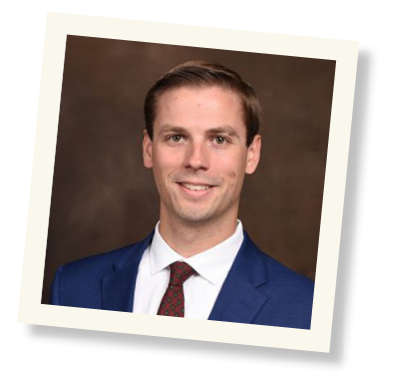 When Michael Powell came to Mississippi State University, the Southaven native wanted something more than classes to fill his time. Looking around there were opportunities for Greek life, student government, even an array of niche student groups, but he said nothing seemed to pique his interest—except sports.
A lifelong Bulldog fan who grew up attending a variety of sporting events in Starkville, Powell soon found an opportunity to follow in his sister's footsteps and become a student athletic trainer for the sports medicine unit in MSU's athletic department.
"I wanted to work, and I wanted to be involved, but none of the typical activities were really for me," Powell recalled. "I love sports and I realized it would be a good job—a way to meet people, earn some scholarship money and have a pretty unique student experience."
He started with the football team, joining the gridiron Dawgs for their trip to the Gator Bowl in 2010. The next year, Powell worked with men's basketball before returning to football and then finishing his college career as a student trainer for the Diamond Dawgs.
As a business administration major, Powell stood out from his student trainer peers, most of whom had aspirations of careers in medical or sports-related fields. But while he wasn't there for the practical experience in physical training, he said the job did train him in other ways.
"I think that job helped me learn to work, and to work with a variety of people with different personalities from different backgrounds," Powell explained. "In sports, you have a wide cross section of people to work with," Powell explained.

A 2014 graduate, Powell is now a financial adviser with Shoemaker Financial in Memphis. He is also president of the area's Mississippi State alumni chapter, known as the Memphis Maroon Club. He said his experience as a student athletic trainer has been beneficial in both roles.
"It's all about people," he said. "And that's what student training helped teach me."
---
Sincerely
The global coronavirus pandemic has changed much of the education landscape, and student recruiting is no exception.
Historically, university alumni and recruiters have visited high schools or hosted events to entice college-bound students to consider their institutions. But now, with COVID-19 restrictions in place to limit face-to-face interaction, groups have had to find new ways to connect with prospective students.
"It's been difficult," explained Jessica Dougan, who leads student recruiting efforts for the Memphis Maroon Club.
Many might think the answer lies in high-tech solutions, but Dougan said Memphis-area Bulldogs have found a delightfully old-fashioned technique to reach the next generation—letter writing.
"With COVID, our traditional watch parties and social gatherings have been taken away from us, but we could focus on student recruiting," Dougan said. "We could get everyone on a Zoom and discuss writing our letters and make a plan."
Dougan, who is a program coordinator at the West Cancer Center and Research Institute, said the alumni group works with official recruiters from MSU to get the names of potential students from the Memphis area and beyond. She noted that the Memphis Maroon Club also sends baskets of MSU-branded giveaways to local high schools.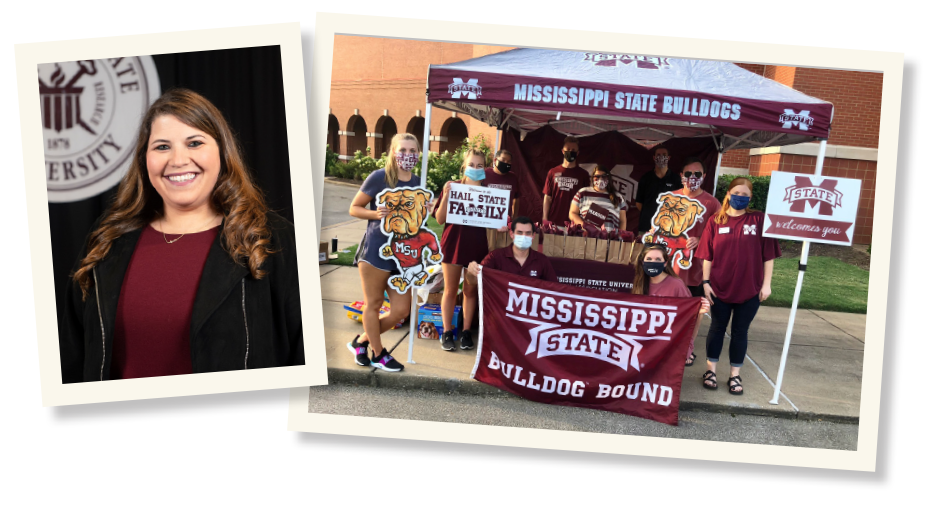 "We want to help them make a connection with MSU," Dougan said.
A 2013 elementary education graduate, Dougan said her own decision to become a Bulldog was spurred by a visit to campus for a football game.
"I had a scholarship offer to play softball at another school, but as soon as we hit Highway 12 and I saw the back of the Davis Wade scoreboard, I knew I wanted the Southeastern Conference experience," the Germantown, Tennessee, native recalled. "I wasn't sure how to break it to my parents, but they went on a tour a couple of months later and fell in love with it."
She said having alumni write to prospective students and share their personal MSU experiences can help these students see themselves as future Bulldogs.
"The lists we get from recruiters have students from lots of different backgrounds and lots of different areas of interest," Dougan said. "It's kind of neat getting to reach out to them and help them see what Mississippi State has to offer."
Dougan said letter writing is also beneficial for alumni as it allows them to give however much time they feel they can spare.
"We get the lists, and we'll ask our members, 'OK, how many do you think you can write?' They might say 10-20 or just one or two, which is fine," Dougan said. "That's one or two students who might not have gotten a personal touch without that person volunteering their time."

Handwritten Notes
Dougan offers the following tips for alumni who want to craft compelling and engaging letters for prospective students.
• Be personable
• Focus on encouraging a student to visit or apply to MSU
• Include contact information such as an email address and social media handles
She noted that having an active chapter-level email address and social media presence is important so prospective students can reach out or learn more about their local Dawgs.
The MSU Alumni Recruiting Network has a Maroon Mail Writers group for anyone interested in joining the letter-writing effort. Find more information about it and other alumni-involvement opportunities at www.alumni.msstate.edu.
---
The Streak
One hundred and fifty-eight. That's how many consecutive Bulldog football games Stephen Woo has attended. Home, away and neutral, good, bad and ugly he has been there to cheer for Mississippi State at every snap since October 2008.
It's one of the longest known attendance streaks among the Bulldog faithful, matched only by his mother, Ying, who joins him at games come rain or shine.
"It just kind of happened," Woo said of the impressive feat. He even negotiated the necessary time off when he joined his current company, Mid-America Apartment Communities Inc. where he is SVP Tax.
"They already knew when I met with them that being able to take off to travel to games would be a requirement," the Lexington native explained. "Al Campbell, the chief financial officer, is a fellow Bulldog so he understands."
Having earned bachelor's and a master's degrees in professional accountancy from MSU in 1994 and 1995, respectively, Woo moved to Memphis in the fall of 1995 to accept a job with Coopers & Lybrand. He soon began attending games as an alumnus—making it to 312 of 317 games since his graduation. When his parents retired in the mid-2000s, they joined the fun.
"A friend sold me her season tickets when she decided she wasn't going to use them," Woo said. "I figured since I had the tickets, I would see if my parents wanted to go. They did and when the season was over, my mom wondered how much season tickets would be the next year. Later they started going with me to some of the away games, too.
"She said, 'You know I don't have anything to do. I'm just going to tag along,'" Woo recalled. "Now she's on her 158th game in a row."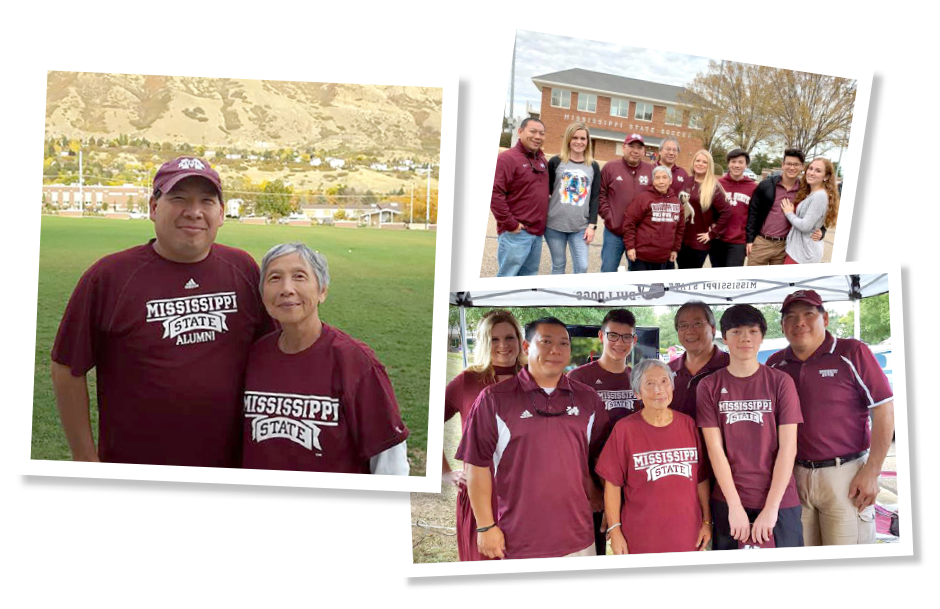 Though Woo's father Gordon, who attended MSU in the late 1950s, passed away in 2009, Stephen and his mom have continued to make games a family affair, inviting his siblings and extended family along to cheer on the Dawgs. And it's not just football. The Woos also support the Diamond Dawgs, men's and women's basketball, and other Bulldog sports—though not with the same attendance streak.
Woo is also an active supporter of MSU's Spirit Groups, likely the only folks who can rival his game-day commitment.
"People don't realize how much time they're putting in with practices and games, and for only a little scholarship money, so I try to help when they need new uniforms, a new Bully costume or things like that," Woo said, noting that a conversation with a former squad adviser was his first introduction to the group's needs.
Now in his second term on the Alumni Association's national board of directors, and with a 20-year history of supporting the Memphis Maroon Club, Woo said all Bulldogs can help support the university whether it's by attending games, volunteering or financial support.
"I know it's a cliche, but it really is a family," said Woo, who also serves on the advisory board for the Adkerson School of Accountancy. "This is my university—my family—and it is a big part of me, so I think supporting the university, and supporting our teams—even in rough years—is important."
He encourages all Bulldogs to reach out to their area alumni chapters as a way of staying connected and offering support.
"I think it really starts with the local chapters," Woo said. "They're great at getting our local alumni involved and being a link to MSU."

---