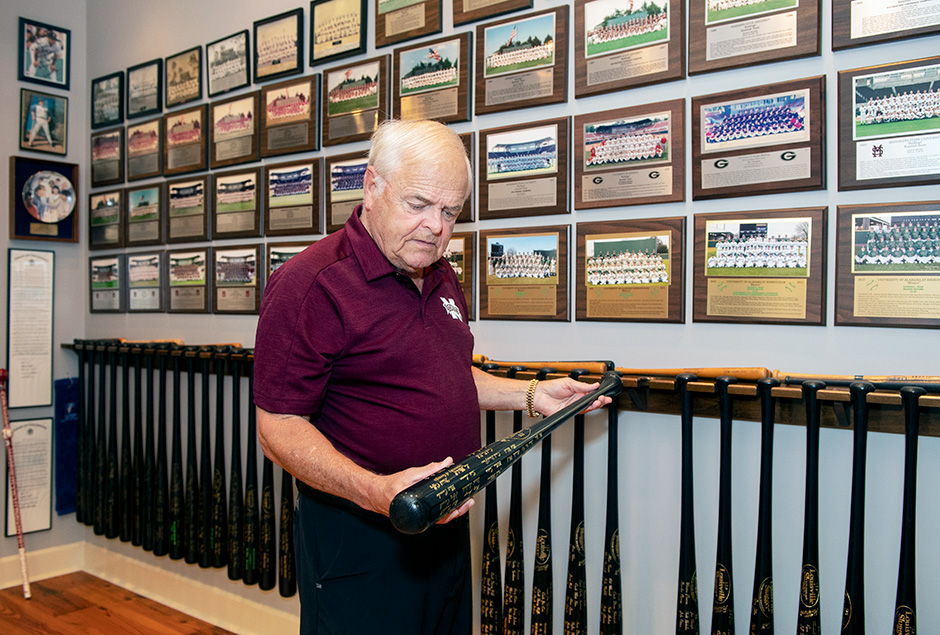 From the outside, nothing seems unusual about the sprawling brick and stone house. The arched windows and large double doors framed by a well-manicured yard appear commonplace among the other homes scattered throughout the neighborhood. But walking through the front door, it becomes clear this is no ordinary home.
The specially designed, gallery-style entryway, like nearly every other room in the house, is filled with photos and memorabilia that transport visitors to places they've never been, familiarizes them with childhood heroes, and recalls the struggles and victories of seasons gone by. As the walls of what seemed to be an ordinary house begin to tell the story of a lifetime, an old adage comes to mind—"you can't judge a book by its cover." Fittingly, the saying is also true of the home's owner—Ron Polk.
The renowned Mississippi State baseball coach has compiled one of the most successful winning records in Southeastern Conference history and is known to many as the "Godfather of SEC Baseball." Even those less familiar with MSU baseball have likely heard the legends surrounding his name—most of which are true and require no exaggeration. Polk's accomplishments and contributions to the game of college baseball throughout his 54-year career are unparalleled and continue to impact players and teams across the nation.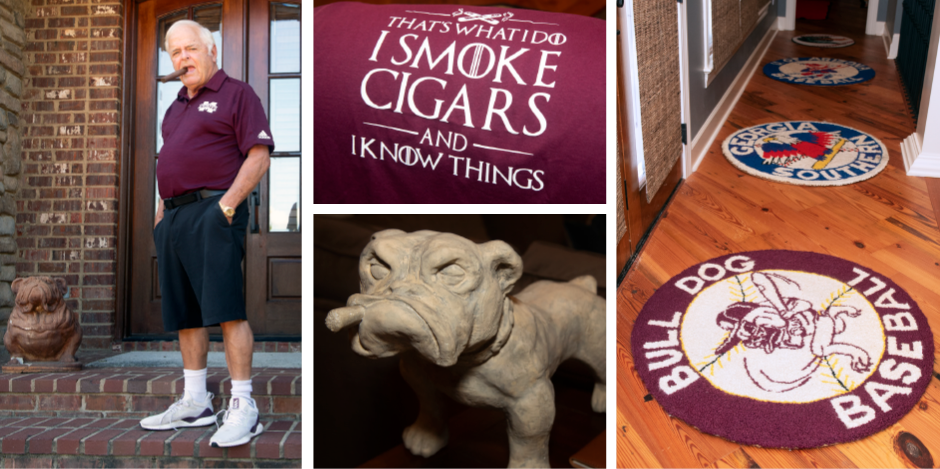 Left: Former MSU baseball coach Ron Polk recounts the players and teams he led, all of which are enshrined along the walls and shelves of his Starkville home. Above: Easily recognized with his trademark cigar, Polk built his house to serve as a museum displaying his collection of memorabilia, which spans his career and dedication to America's favorite pastime.
Polk was born in Boston, Massachusetts, but his family relocated to Phoenix, Arizona, where he spent his childhood. Following his father's footsteps, Polk showed a love for the game from an early age. Many would assume there was a specific moment or realization that inspired him to not only pursue but to dedicate more than half a century to the game, but Polk said he can't recall anything in particular.
"My dad was a minor league player, so he played with me and my brothers all the time. It just happened." he said.
Polk took a swing at collegiate-level baseball at then-Grand Canyon College in Phoenix, while pursuing his undergraduate degree. After his graduation in 1965, he began a coaching career as a graduate assistant coach at the University of Arizona, where he earned a master's degree, and later at the University of New Mexico, where he pursued a doctoral degree.
From there he headed to the southeastern corner of the country, where he would assume his first job outside of graduate school as an assistant coach at Miami Dade-South Community College. Although Polk was little known at the time, a new era was dawning—one that would cement his name as legend in college baseball across the nation.
A two-time National Coach of the Year and five-time SEC Coach of the Year, Polk led his teams to eight College World Series appearances and five SEC Championships. He is one of only three coaches in college baseball history to take three different programs to Omaha. The winningest coach in all sports in SEC history, Polk was the first in any sport in the conference to reach over 1,000 victories.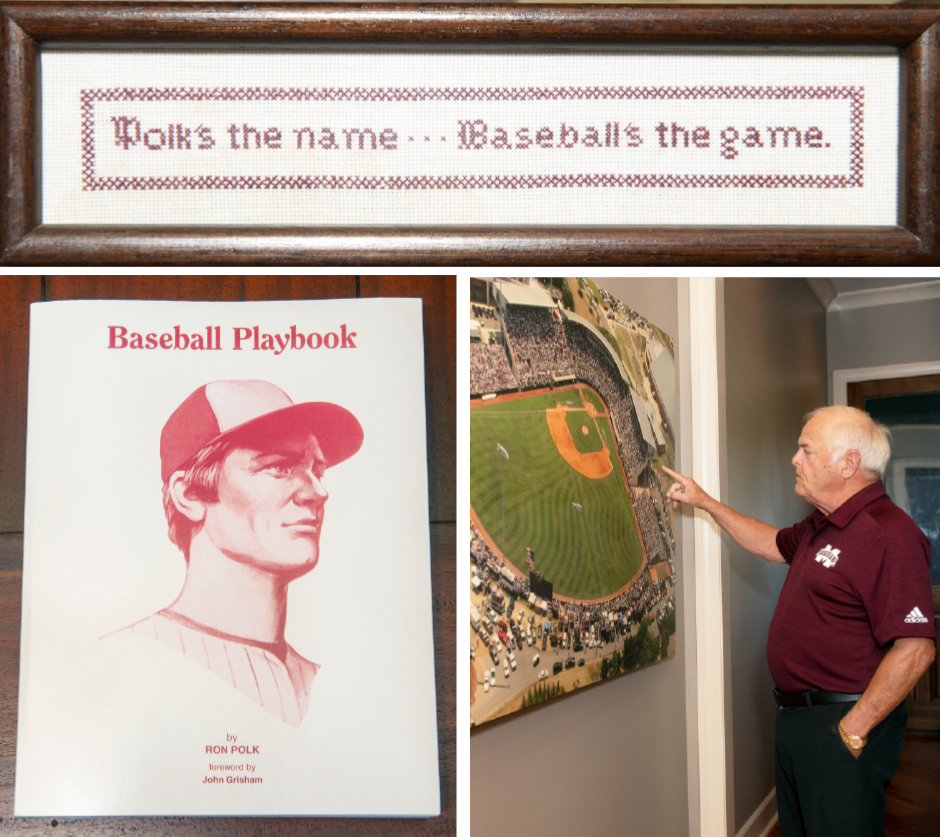 "The Baseball Playbook," written by Polk, is the nation's leading textbook for the sport.
He is a member of six amateur baseball halls of fame including the American Baseball Coaches Association (ABCA), Mississippi Sports, and College Baseball Halls of Fame. Named an SEC Legend in 2017, Polk has also earned the esteemed Lefty Gomez Award from the ABCA and the Rube Award from Mississippi Sports Hall of Fame for his tireless service to others during his career.
In his 35 years as a head baseball coach, 29 of which were with the Maroon and White, Polk produced 35 All-Americans, 76 All-SEC selections, and 187 professional draft picks. At MSU, Polk recruited and coached some of the game's all-time greats including major league standouts Jeff Brantley, Will Clark, Rafael Palmeiro, Bobby Thigpen and Jonathan Papelbon.
But when it comes to "Polk's folks," the coach doesn't pick favorites. He recognizes all of his former players, managers and staff members with handwritten letters every year—every single one of them. Each week, Polk sits at his desk in his home office and prepares a stack of personalized cards for the mail. From birthdays, anniversaries and holidays, he never misses an occasion to acknowledge his teams, no matter how much time has passed.
"I do it because it's the right thing to do," Polk said. "No one else does it, but they were a part of my life, so why wouldn't I take the time to do that?"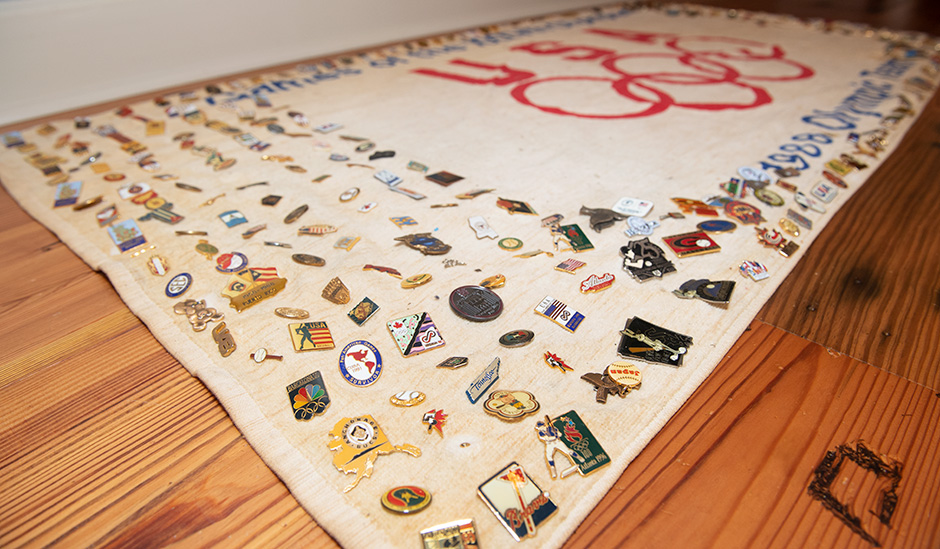 Top: An Olympic flag with pins given to Polk by competitors and teams from around the world sits in Polk's entryway as a reminder of tours he completed on the Team USA coaching staff.
Just beyond the batch of freshly composed correspondences on his desk are Polk's meticulously curated chronicles—a tribute to his teams. In addition to binders of box scores for every season since 1972 and every practice schedule he's ever made, the bookshelves in Polk's home office are brimming with alphabetized folders for all of his former players containing everything from press releases and magazine features from their baseball careers, to personal correspondences and wedding announcements.
An enormous shelf in his dining room holds every NCAA manual since 1970 and years of high school directories from every high school in America. Another room contains detailed scrapbooks Polk compiled for each year he coached. Ironically, all of the photos among his collections were taken by someone else.
"I never think to take any photos. I figure, why would I need them if I'm able to see it for myself right as it's happening," he said.
Polk's efforts to preserve even the most minute details of his career may seem surprising to the crowds of people who have watched him coach in any given game. A true Bulldog in every aspect, Polk is notorious for unleashing his opinion, often in the form of fury, on umpires, NCAA leadership and the like. But with a surprising sentimental side that rivals his trademark ferocity, it's clear that Polk's determined advocacy for the game and his players served as another way to preserve collegiate baseball as we know it today.
Similarly, Polk's Starkville home also serves a larger purpose. He built it to not only house his belongings, but also to exist as a personal museum for his former players to visit.
Today, visitors are greeted by a welcome mat that looks like home plate as they step into the coach's well-curated, ever-growing gallery. The two walls on either side of the entry are lined with baseball bats etched with the year and names of every player from each year he coached. An artistic impression of Polk and Lou Gehrig, a snapshot of Polk with former U.S. President George W. Bush, and images of Dudy Noble Field at Polk-Dement Stadium line the walls, alongside every poster schedule for MSU baseball since they began being printed in the early 1980s.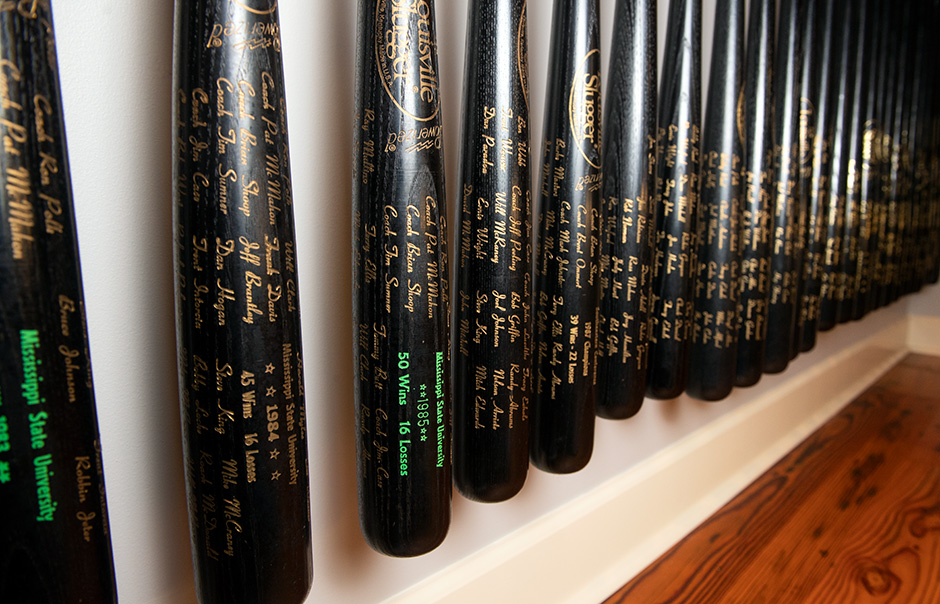 A fan favorite among Polk's keepsake bat collection features MSU's 1985 baseball team, which produced four Major League All-Stars including Will Clark and Rafael Palmeiro, better known as "Thunder and Lightning."
Trinkets and flags from around the world tell of the seven tours Polk completed as a member of the coaching staff for Team USA, twice serving as head coach. Every piece has a story. And Polk loves to tell them all.
The amount of baseball memorabilia exhibited is impressive, even for the man who wrote the book on America's favorite pastime—literally. In 1978, Polk authored "The Baseball Playbook," which remains the nation's leading textbook for the sport. It has been used by more than 450 universities and colleges, all of which are marked on a huge map framed in the home.
Thanks to a generous commitment from the legendary coach, the impressive museum contents will forever be a part of MSU history. Polk earlier informed the MSU Foundation of his intent to support the university through a bequest. Last year, he revised his will and outlined his intention for the designation of his bequest, which includes his home and the surrounding property, to benefit MSU.
The proceeds will be used to procure a space to enshrine Polk's vast collections near the baseball facilities at MSU. The creation of such a space on campus will serve as a lasting tribute to Polk's powerful legacy at Mississippi State and throughout the game of baseball.
Additional proceeds from the bequest will be used to establish the Coach Ron Polk Excellence Endowment in Baseball. This fund will provide vital support on an annual basis, to benefit the baseball program in perpetuity. From general improvements and equipment procurement, to enhanced travel funds, the endowment will provide a margin of excellence that would otherwise not be available, further impacting the future of one of the greatest collegiate baseball programs in the country.
"Mississippi State is a special place, and this is home for me," Polk said. "I wanted to make this gift because it's the right thing to do. I've always preached that concept to my players. My hope is that this gift will help stir interest for others to do the same because when we give, everybody benefits."
By Addie Mayfield, Photos by Beth Wynn
---