While the COVID-19 pandemic has presented its fair share of challenges to small business owners and entrepreneurs nationwide, many in the Magnolia State have been able to continue serving as the heart and soul of their communities with assistance from Mississippi State's Fred E. Carl Jr. Small Town Center and Small Business Development Center. Taking care of people is the Mississippi way, and it's exactly what these centers have each been doing for more than four decades.
As MSU's statewide community design outreach program, the Fred E. Carl Jr. Small Town Center provides research, planning and design services to generate creative solutions for small towns.
Director Leah Kemp explained that the center—endowed in 2004 by MSU benefactor Fred E. Carl Jr. of Greenwood—works with community leaders to develop plans that can help improve local economies and quality of life for residents, creating thriving communities across the state.
"Along with beautifying projects, we're here to help communities with their needs and we do that through our architecture and design toolkit," Kemp said. "With COVID-19, communities' No. 1 need is surviving this economically challenging time, and we have been able to help and want to continue to do that with different small-scale projects."
Kemp said the restaurant industry has been one of the hardest hit during the pandemic, and the innovative concept of turning public parking spaces into public areas called streateries is becoming popular across the nation. She explained that streateries are temporary or permanent open spaces constructed in two or more public parking spaces, and they are designed to serve as outdoor seating and gathering venues for patrons of local businesses. Streateries can be public or semi-public, allowing adjoining restaurants to use the space during designated hours or allow the space to be open to the public during other hours.
Inspired by this growing streatery trend, the center has developed a Small Town Streatery toolkit to provide economic benefit for communities across Mississippi. Kemp said small town representatives and Mississippi small business owners can visit the center's website for free access to the streatery toolkit, which received an honor citation from the Mississippi chapter of the American Institute of Architects.
"Streateries can be a great solution for small towns during the pandemic and after because they can be easily and quickly constructed on limited budgets and with locally available materials and volunteer labor," she explained. "A downtown streatery can catch people's attention so they say, 'Hey, there's something cool down here. Let's go check it out.'"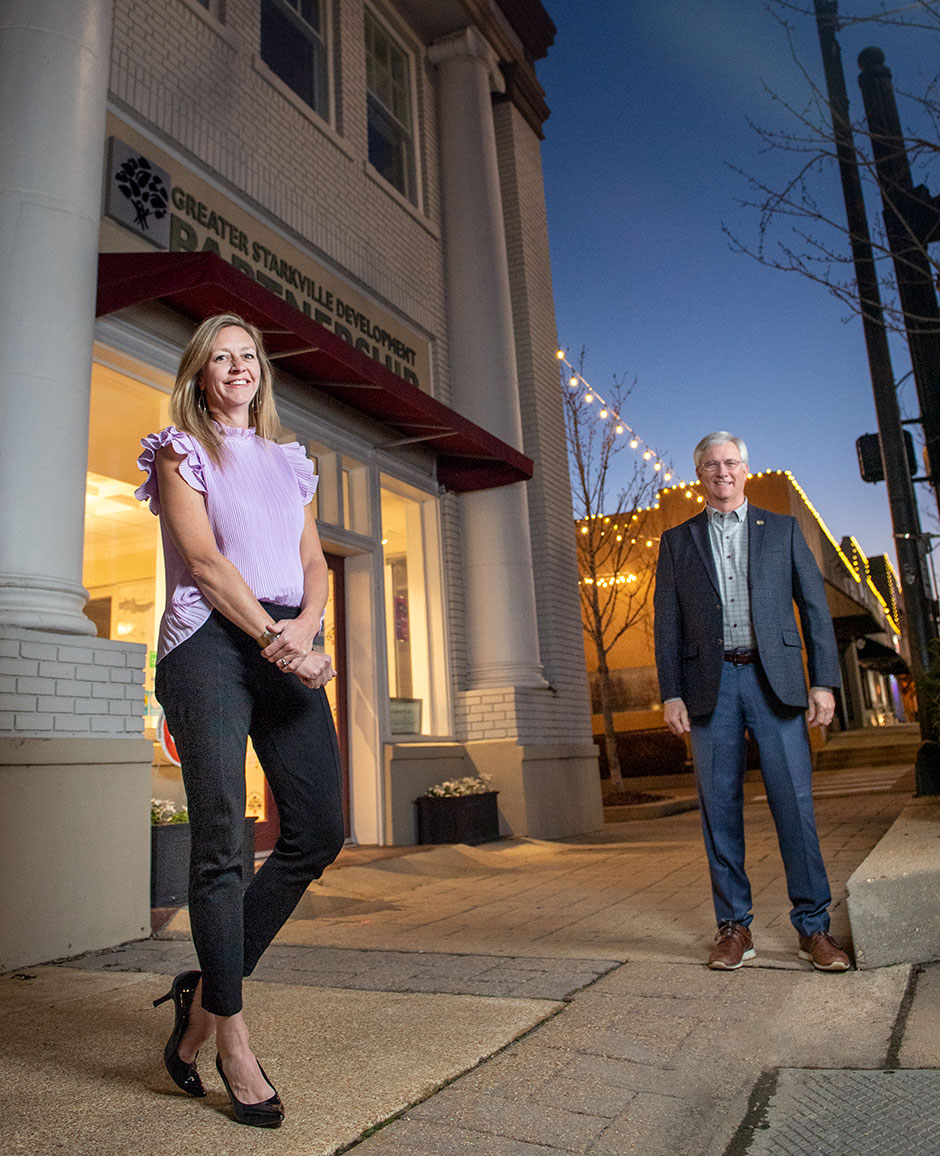 Leah Kemp, director of MSU's Fred E. Carl Jr. Small Town Center, (left), and Mike Tagert CEO of the Greater Starkville Development Partnership stand near "Lights on Lafayette," a light canopy project their organizations spearheaded with help from the City of Starkville and Starkville Utilities.
Kemp said attracting people to downtown Starkville has been a goal throughout the pandemic. She and Fran Pharis, a center architect, designed "Lights on Lafayette," a light canopy project, to help in that effort. The center collaborated with the City of Starkville, Starkville Utilities and the Greater Starkville Development Partnership to install strings of LED lights above Lafayette Street between where it connects Main and Lampkin streets. Kemp said in November 2020, the Mississippi chapter of the American Planning Association presented its Great Street Award to the Fred E. Carl Jr. Small Town Center for its work on "Lights on Lafayette."
"We put up the lights just in time for the first 'Dawg Talk,' the MSU football coach's program, that was held at the Partnership. That building has big windows, so people could stand outside under the lights and watch the show. It was kind of like our version of being in Rockefeller Plaza on the 'Today Show,'" Kemp said with a laugh. "People have gotten really excited and have been going down there to check it out and take pictures under the lights. We look forward to seeing the positive economic benefits this public event space can bring to the city."
Mike Tagert, CEO of the Greater Starkville Development Partnership, said he is optimistic that "Lights on Lafayette" will continue to provide a vibrant atmosphere for "Dawg Talk" and other events in the city's downtown district during and after the pandemic. Tagert, a two-time MSU graduate also serving as associate director for the university's corporate and economic partnerships, said the GSDP was proud to help bring "Lights on Lafayette" to life.
"This project was about more than hanging a few lights. There were building and structural concerns, light placement considerations, and the legality of a utility easement," he explained. "Starkville and Mississippi State University represent one big family. The Fred E. Carl Jr. Small Town Center was focused, creative, knowledgeable and helpful in all aspects of the project, and we are grateful for their assistance."
Paige Watson, GSDP special events and projects coordinator, said her organization also appreciates the MSU Small Business Development Center's support throughout the pandemic.
"The center supplied a multitude of resources to help businesses with the economic recovery process," said Watson, an MSU communication alumna. "We were glad to be able to distribute those to our membership, as well as host two webinars with the SBDC."
Funded in part through a cooperative agreement with the U.S. Small Business Administration and with offices at both MSU's Starkville and Meridian campuses, the SBDC provides free, one-on-one business counseling to clients across Choctaw, Clay, Kemper, Lauderdale, Lowndes, Monroe, Montgomery, Noxubee, Oktibbeha and Webster counties.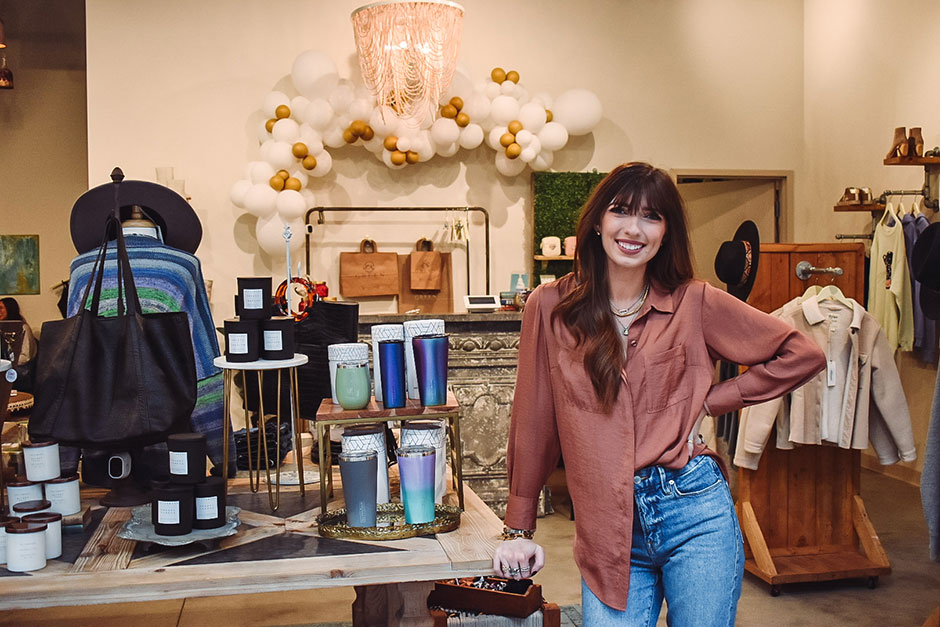 Anna Caroline Toms, an MSU College of Business graduate and owner of the L.A. Green franchise in Nashville, is one of the MSU Small Business Development Center's biggest fans. At the encouragement of L.A. Green Starkville owner Lauren Ann Cooper, Toms met with SBDC director Chip Templeton to write a business plan for her retail establishment. The center's support, she said, has been invaluable while navigating the pandemic and other challenges throughout her first year of business. (Photo submitted)
Anna Caroline Toms is one of the SBDC's biggest fans. The Columbus native said she first learned of the center while pursuing a business administration degree in MSU's College of Business. When it was time to put together a business plan for the L.A. Green Nashville retail establishment she opened in November 2019, Toms said she knew just where to go for help.
"I had been shopping at L.A. Green in Starkville since it opened in 2011, and I loved it so much that I wanted to open a franchise in Nashville," she explained. "The owner of the Starkville store, Lauren Ann Cooper, had worked with the SBDC before, so she encouraged me to set up a meeting with the center's director Chip Templeton."
Cooper, a Kilmichael native, graduated from MSU in 2008 with an apparel, textiles and merchandising degree.
Toms said she met multiple times with Templeton, a 1977 MSU marketing graduate, to discuss her entrepreneurial goals. As a first-time business owner, Toms said it was empowering to receive one-on-one consultation from Templeton as he shared insight from his experience in the business industry. Templeton grew up assisting with his family's hotel operation before spending nearly three decades as president of the Templeton Cadillac-Chrysler-Dodge-Jeep dealership, among other local commercial endeavors. His family has three generations of MSU College of Business graduates.
"I felt so comfortable talking with Chip. He made me feel more confident voicing my opinions and goals," Toms said. "He gave me forms to fill out to help me put my thoughts on paper, he helped me with my forecasting numbers, and he gave me a template to go off of to get started with writing my business plan."
Toms said her first year of business in the Music City has been challenging, particularly last March when the Nashville area was dealing with tornado damage and the onset of the pandemic.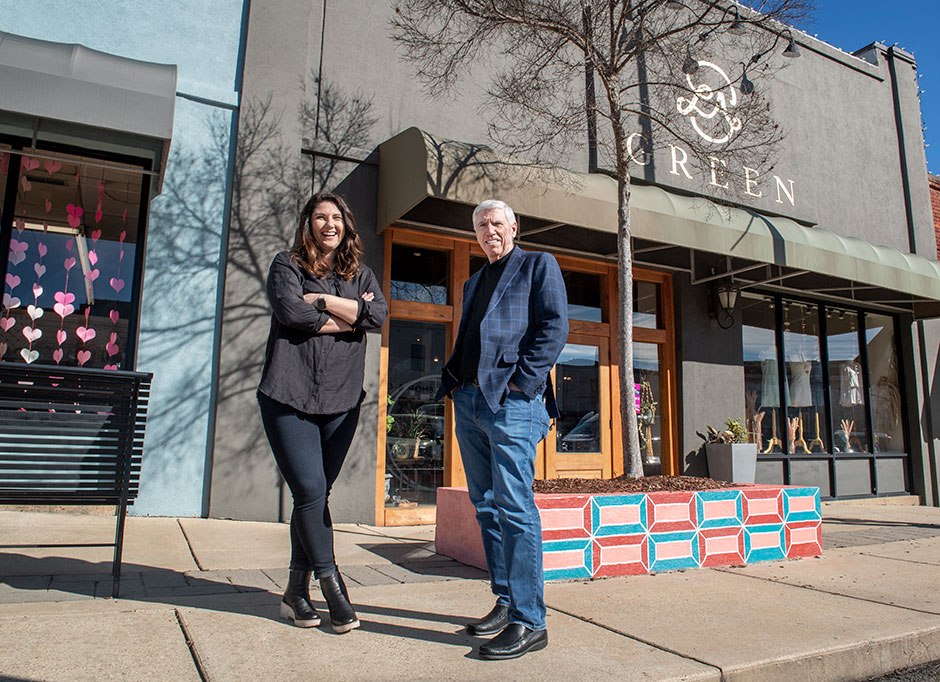 For more than four decades, MSU's Small Business Development Center has provided free, one-on-one business counseling to clients in 10 Mississippi counties, including Oktibbeha County. MSU School of Human Sciences alumna Lauren Ann Cooper of Starkville-based retailer L.A. Green, (left), has benefitted from the SBDC's support and continues to refer other store owners, including Anna Caroline Toms (pictured above), for counseling from center director Chip Templeton, an MSU marketing graduate (right).
"Between the tornado and COVID lockdowns, it has definitely been interesting," said Toms, who was L.A. Green Nashville's sole employee at the start of the pandemic. "Several places in our area closed for good due to lack of foot traffic. When we had to close for safety reasons, it slowed our progress, but I just worked longer and harder, doing a lot of online sales from 6 a.m. to midnight. Focusing a lot on social media and continuing to build relationships with our customers is what really got us through."
Toms said the pandemic was a blessing in that it reminded people about the importance of supporting small businesses. She said her goal was to be a light for her customers, many of whom were trying to do the same for others.
"It was so important for us to have our social media because people felt comfortable sending me messages to ask if we had something they were looking for. Having customers trust me to virtually shop for them has been really cool," she said. "I've also been wrapping a lot of gifts, from candles to devotionals, that customers have been getting for friends. During the quarantine period, I would deliver pre-wrapped gift sets, so our customers didn't have to worry about getting out, but as people have been able to get back out in the area, it's been exciting."
Toms said in addition to her loyal customers, she is grateful for the Small Business Development Center and the Small Business Administration. Their support made her feel that "if we can make it through this, we can make it through anything."
"I didn't qualify for the Paycheck Protection Program loan because I didn't have any employees. The SBA paid about six months of my loan payments, which was awesome and that helped me out so much," she said. "It has also helped to have Chip as a resource at the SBDC because he always answers every call, text and email. To this day, he reaches out to make sure that I'm doing ok."
She advises others, "If you want to open a small business and have access to the Small Business Development Center, I 110% encourage you to call."
---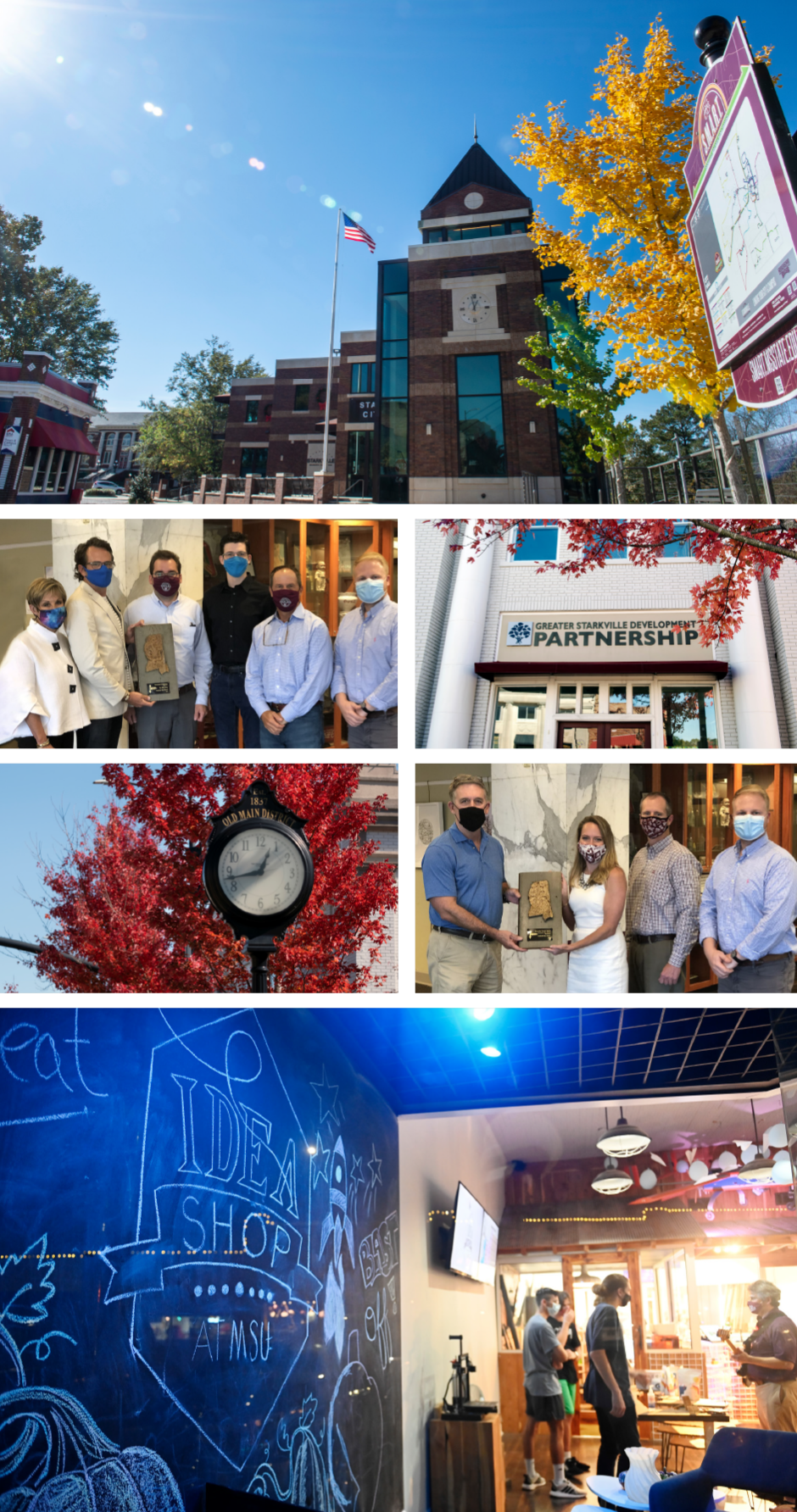 Town and gown collaboration earns Impact award
Mississippi State University and the City of Starkville accepted two 2020 Mississippi Main Street Association Awards, proving that great things can happen when great organizations work together.
MSU's Office of Admissions and Scholarships and its Office of Orientation and Events, along with the Starkville Convention and Visitors Bureau and the Starkville Main Street Association, received the MMSA's Outstanding Economic Impact Award for "Orientation Dine Around Downtown." The project was developed and implemented in 2018 to provide incoming MSU freshmen and transfer students and their families with a "first taste" of Starkville restaurants. The 2018 and 2019 events helped the town see a 40% increase in tax revenue.
John Dickerson, MSU assistant vice president for enrollment, said the Office of Orientation and Events, under the direction of Kylie Forrester, collaborated with staff at the Greater Starkville Development Partnership and the City of Starkville to make this economically beneficial event a success.
The MSU Idea Shop received MMSA's Outstanding Entrepreneurial Endeavor Award. The 2,000-square-foot makerspace and retail storefront has been opening its downtown Starkville doors to local creatives since March 2019. Operated by MSU's College of Business and the College of Agriculture and Life Sciences' School of Human Sciences, the shop hosts workshops and other fun events to create what GSDP's Paige Watson describes as an "everlasting entrepreneurial spirit in Starkville."
By Sasha Steinberg, Photos by Megan Bean & Submitted
---