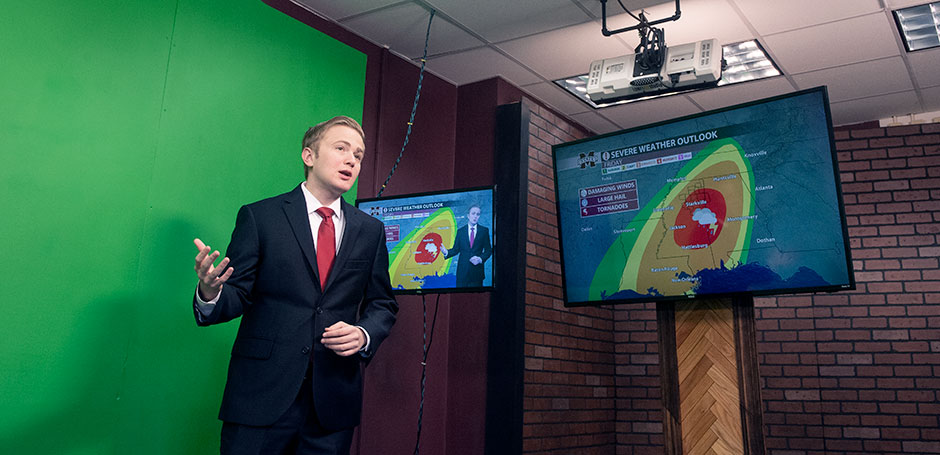 Alex Forbes, a senior geoscience major with a concentration in professional meterology, practices in front of a green screen.
Come fair weather or foul, meteorologists work to let the public know what to expect when they step outside their doors.
Today's weather forecasters can more accurately and earlier than ever before predict when a weather event is coming, who it will affect and how strong it will be. Using industry-standard terminology, meteorologists inform the public so individuals can make the best decisions to protect life and property.
But what happens if the terms used to describe a situation are not fully understood by those they're meant to protect? That's an issue broadcast meteorologists have grappled with for years as they work to communicate scientific knowledge to the general public. And it's an issue Mississippi State's Alex Forbes decided to tackle head-on.
A senior geoscience major with a concentration in professional meteorology, Forbes used his capstone project to validate an idea widely accepted in the field: The public does not accurately understand the terminology used by the National Weather Service Storm Prediction Center.
"I took a belief that was widely accepted by broadcast meteorologists—that the scale used by the prediction center didn't work—and essentially put numbers behind it," the Georgia native said. "With that premise validated, people can begin working to address it."
The project was completed as part of a course taught by Sarah Lalk, an assistant clinical professor. Mike Brown, an MSU professor and state climatologist for Mississippi, serves as Forbes' adviser. He said he believes Forbes' research complements the overall mission of the field.
"We're always trying to improve our abilities to forecast the weather and our abilities to issue warnings to save lives, but one thing that's been neglected in meteorological research is making sure that the public understands what we're telling them," Brown said.
"If we're using a language that is not easily understood by the public, then we're doing a disservice," Brown continued, noting that future research should be directed toward understanding how people perceive warnings.
The NWS Storm Prediction Center currently issues maps that measure threats on a five-point scale that includes ratings of marginal, slight, enhanced, moderate and high. This range was adopted in 2015 as a more accurate system than its previous three-point scale—slight, moderate and high.
"I've never had a person ask me if a Category 5 is worse than a Category 1." ~Alex Forbes
"Everybody in meteorology switched to the five-point scale because the SPC is the official government source," Forbes said. "But broadcasters realized very quickly that the public does not accurately perceive the hierarchy of the words that the Storm Prediction Center uses."
To quantify the issue, Forbes surveyed nearly 4,000 individuals across the Southeast. He asked participants to rank the five terms according to what they felt was the least to most severe. While he expected to find that participants confused the terms "moderate" and "enhanced," he was surprised to learn that many also misplaced "slight" and "moderate." Overall, respondents placed four of the five categories in the wrong order.
Forbes said these findings align with what television meteorologists have noted when interacting with their audiences on social media.
"Meteorologists have found that when broadcasting through Facebook Live or talking to people in the community, they get more questions about severe thunderstorm graphics than the forecast," Forbes said. "People wonder why 'slightly' is less of a risk than 'marginal,' and ask, 'What's the difference between green and yellow on the map?'"
Social media has been an important avenue to directly connect meteorologists—particularly those in television—with the public, giving them a greater insight into the disconnect between what's said versus what's understood. Forbes explained this is why broadcast meteorologists are often leaders in effectively translating science into terms the general public can understand.
One way to help: Drop the confusing category terms. Forbes suggests that broadcast meteorologists and news outlets instead convey risks with a numbered scale, similar to what is used to indicate the strength of hurricanes.
"I've never had a person ask me if a Category 5 is worse than a Category 1," Forbes explained to The Washington Post this spring when the publication wrote about his work. "It's straightforward; the higher the number, the higher the threat."
Forbes said he was excited to see his research pique the interest of the D.C.-based Washington Post, noting that it seemed a good fit for the publication, which has a large weather department.
"I was told they pursued this story to highlight the fact that the federal Storm Prediction Center offers an extremely accurate forecast that is not communicated in a way the public understands," Forbes said. "And by having this study in The Washington Post, you get people on Capitol Hill reading it along with everybody who gets the publication."
Forbes said that level of exposure makes him hopeful for the future of the public's understanding of and trust in meteorology.
"I've spoken with people from the National Weather Service, and their main objective is to get the predictions right," Forbes explained. "But they plan to do a lot more in-depth analysis on the threat-communication issue and other Storm Prediction Center products. I think their end goal is to figure out what works best for the most people."
LIVING WEATHER-READY
Alex Forbes first became interested in meteorology when his life was affected by a severe weather event. His childhood home was struck by a tornado in 2006 and would be hit by lightning twice in the years that followed.
These events didn't just shape Forbes' career plans but specifically spurred his desire to help people be prepared for whatever Mother Nature may throw their way. He offers the following National Weather Service and Federal Emergency Management Agency-backed advice for living "weather-ready."

Be informed
Severe weather changes can happen fast. Have multiple ways to access up-to-date information. National Oceanic and Atmospheric Administration weather radios are considered the most reliable sources. There are also many weather-related apps and TV meteorologists often use social media to stream their broadcasts during severe weather events. Additionally, free services like CodeRED Emergency Alerts can send notifications about your location directly to your mobile device.


Know what to listen for
Anytime the word "warning" is used, take action to protect against that hazard—whether it's a tornado or hurricane, lightning, strong wind, heat or winter weather.


Have a plan
Know where to go when a warning is issued. If a basement or specially constructed storm shelter is not available, this pre-determined "safe space" should be on the lowest floor and most interior area of the structure. Avoid rooms with windows.


Prepare a safe space
Safe spaces should be equipped with the necessities to keep people safe and comfortable. This can mean ensuring all occupants have socks and closed-toed shoes in case the structure is damaged; mattresses, cushions and helmets to protect against bodily harm; food and water; and, in the case of children, a toy or object to help them feel safe and keep them occupied.

FEMA recommends people keep emergency bags ready for any severe weather emergency and suggest stocking it with:
• one gallon of water per person per day for at least three days,
• at least a three-day supply of nonperishable food,
• a battery-powered or hand-crank radio and flashlight with extra batteries,
• and a first aid kit, including any prescription medications safe-space occupants might need.

When your location is at risk of a severe weather threat, it is also recommended that you keep all mobile devices charged in case of an eventual power outage. External power banks capable of recharging devices can be useful in these situations.
By Leah Gibson, Photo by Beth Wynn
---