Humans have monitored oil pipelines since they were first built, but a biosensor being developed by Mississippi State University researchers could make the pipelines more closely monitored than ever before.
Veera Gnaneswar Gude, an associate professor in MSU's Department of Civil and Environmental Engineering, is leading a team of researchers working to develop biosensors that adhere to the outside of oil and gas pipelines. Biosensors are devices that convert certain biological responses into an electronic signal. Those sensors could potentially send an immediate signal when a leak begins and work to repair any damage, diminishing the environmental harm of oil spills and maintaining the safe flow of oil and gas needed to power the economy.
"Biosensors are not new, but our application and process is new," Gude said. "Currently used sensors are not highly reliable and mostly monitor the internal side of the pipeline. Those systems have some delays in response because they travel through and relay information. What we're developing provides continuous monitoring."
The microbial biosensors Gude and his colleagues are developing are designed to release electrons when oil is detected. This would produce enough voltage to be translated as a signal, and that signal could automatically alert those in charge to the leak, prompting a quick response to minimize the effects of the spill.
Gude has been working on bioelectrochemical research since he joined the James Worth Bagley College of Engineering faculty in 2012. Primarily, his applied research has focused on wastewater treatment. In that area, he is working to develop environmentally friendly and energy-positive wastewater treatment methods, which also involve highly specialized microbes. This research, which remains ongoing, was a precursor to the pipeline biosensor research.
The researcher's work in wastewater treatment attracted civil engineering doctoral student Umesh Ghimire to MSU. Both Ghimire and Gude said they are motivated to use their research to solve critical issues in wastewater treatment around the world.
"I am from Nepal, and I started studying wastewater there as an undergrad," Ghimire said. "In Nepal, we have water resources, but they can be polluted. The management and treatment process there is not good. I always think about how to manage wastewater and how to treat the wastewater. With our research, we are doing three processes at once. We are generating electricity, desalinating sea water and treating wastewater. Dr. Gude is always motivating me and keeping me going in the right direction."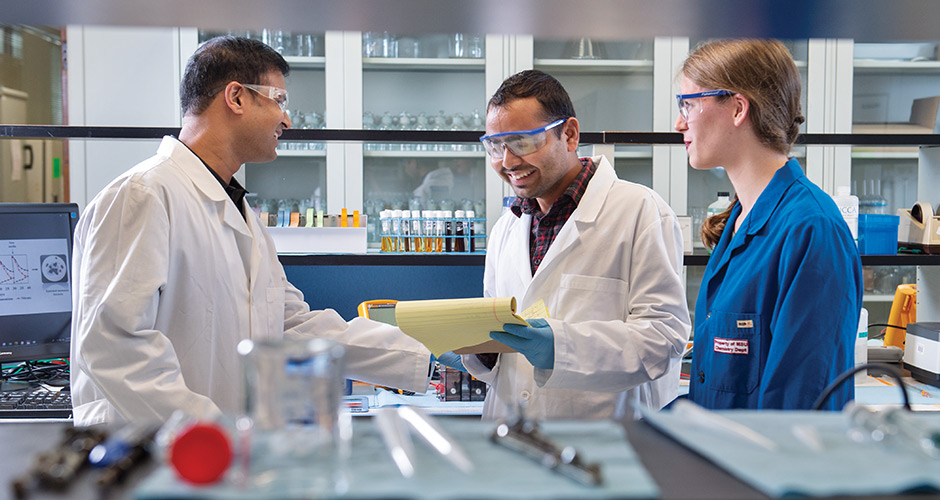 As the wastewater treatment research evolved, Gude began to study different ways microbes could be used to benefit society, such as the biosensors for oil pipelines. Using similar techniques, Gude began studying how the biosensors can absorb oil from a pipeline leak, further minimizing the impact of oil spills.
In developing the biosensors for oil pipelines, Gude uses an interdisciplinary approach, pulling from the fields of chemical engineering, biochemistry and microbiology.
"This research requires an interdisciplinary approach to understand the different problems," Gude said. "We need to keep these microorganisms in place, so that means some materials research to ensure organisms stay within the system. You need some kind of connecting material for the sensors. There's a lot that has to go in from different fields."
Gude is working with scientists at the U.S. Department of Agriculture and MSU's Department of Chemistry to help advance the research and technology. Over the past decade, he has received national and international recognition of his research by his peers. In his time at MSU, he has published over 60 research-journal articles, five books, 15 invited book chapters and 25 peer-reviewed conference proceedings. His work has been cited over 3,000 times by other scholars.
In addition to being recognized for his research, Gude has also been recognized for his commitment to engineering education. The New Mexico State University doctoral graduate and India native has published 15 articles related to engineering education. He is the program chair for the environmental engineering division of the American Society for Engineering Education.
In his lab, Gude has two doctoral student assistants, as well as undergraduate students who are supported by National Science Foundation, Bagley College of Engineering and departmental funding sources.
"They get to work on these projects and leave with strong research experience," Gude said.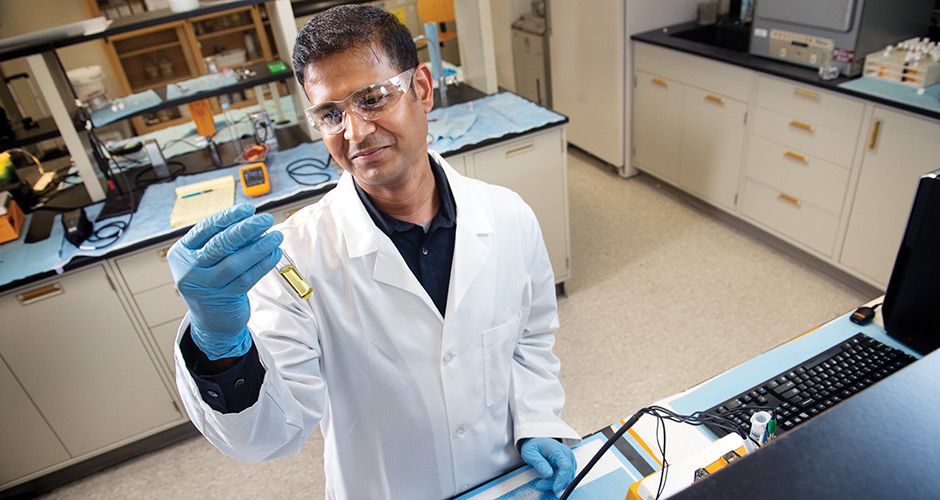 Hariteja Nandimandalam came to MSU from India to obtain a doctorate in civil engineering and work with Gude. Nandimandalam, who assists Gude with the biosensors project, said Gude has helped him become more comfortable in a research lab.
"I'm not really interested in generating electricity. I just want to know if there's been a change in electricity because that could mean an oil spill," Nandimandalam said. "That's the basic idea. It's fun to work on something that will help that."
The high commercial potential and positive impact to humanity of Gude's biosensor research has made it one of the top 100 Science Spinoffs according to spinoff.com, which connects university researchers to potential investors. Federal researchers have also taken notice of the work as Gude and his colleagues were invited to contribute an article to the Homeland Defense and Security Information Analysis Center's research journal in the summer 2018 edition. The center is sponsored by the U.S. Department of Defense.
As Gude moves the research forward, he will continue to examine the best ways to apply the biosensors to pipelines and design them in a way that makes them function in a wide variety of environments. He is also exploring different applications for the techniques, such as remediating hydrocarbon contaminated groundwater from environmental dangers.
"We've been successful in identifying microorganisms that can consume oil and produce electricity," Gude said. "People are beginning to learn more about this research, and there is a lot of potential and interest in this area. I hope to find opportunities that can take this research to the next level."
By James Carskadon | Photos by Megan Bean