MSU Beef Unit provides unique research, learning experience
Every day, Mississippi State students and staff feed, groom and saddle up their horses before dawn. Riding into the sunrise, they patrol 600 acres of MSU's South Farm and tend its cattle herds before most have brewed the day's first cup of coffee.
These "campus cowboys" are responsible for the health and safety of approximately 500 head of cattle that make up the Starkville campus herd, which is part of the MSU Beef Unit. This research group provides meaningful advances for an industry that brought $268 million to Mississippi in 2019.
For the students, being a campus cowboy is an invaluable hands-on learning experience, giving them exposure to the cattle industry, large animal medicine and practical research. For the university, Brandi Karisch said the cowboys provide an essential service.
"We couldn't do this research without these students," said the Milton Sundbeck Endowed Associate Professor. "They are the ones with the day-to-day boots on the ground who are out there observing and taking care of this cattle."
Colton Freeman said being a campus cowboy is a step toward achieving his dream of one day owning a herd. At 23, the Richton native has ridden more miles than most on horseback.
"I rode horses by age 3 and roped cattle by age 6," the senior agricultural engineering technology and business major recalled. "My dad has always been part of rodeo and taught me everything."
Freeman grew up competing in rodeos and still ropes cattle under the arena lights whenever he can. In high school, he worked at a feed store and in area stockyards. As a Jones Junior College student, he worked as a technician for a large animal vet. And when it came time to attend MSU, he brought his 3-year-old red roan with him.
Named T.J., the horse is now quartered at the Beef Unit, which is part of the H.H. Leveck Animal Research Center, commonly known as South Farm.
"He doesn't like being caught at 5 a.m. on a cold morning, but by the time I have a saddle on him, he's ready to go," Freeman said of T.J. "He loves moving and sorting cattle."
While Freeman brings plenty of cattle sense to his job on South Farm, he said he learns something every day.
"My goal is to understand every part of the beef industry, which is why I love working with the MSU Beef Unit. It shows you every side of it," Freeman said. "You don't realize what you don't know until you're faced with it. Everything you study comes together when you are able to put what you learned in the classroom into action."
Despite difficult work in blistering heat, bitter cold or torrential downpours, Freeman said the staff herdsmen and other student cowboys make it easy and fun.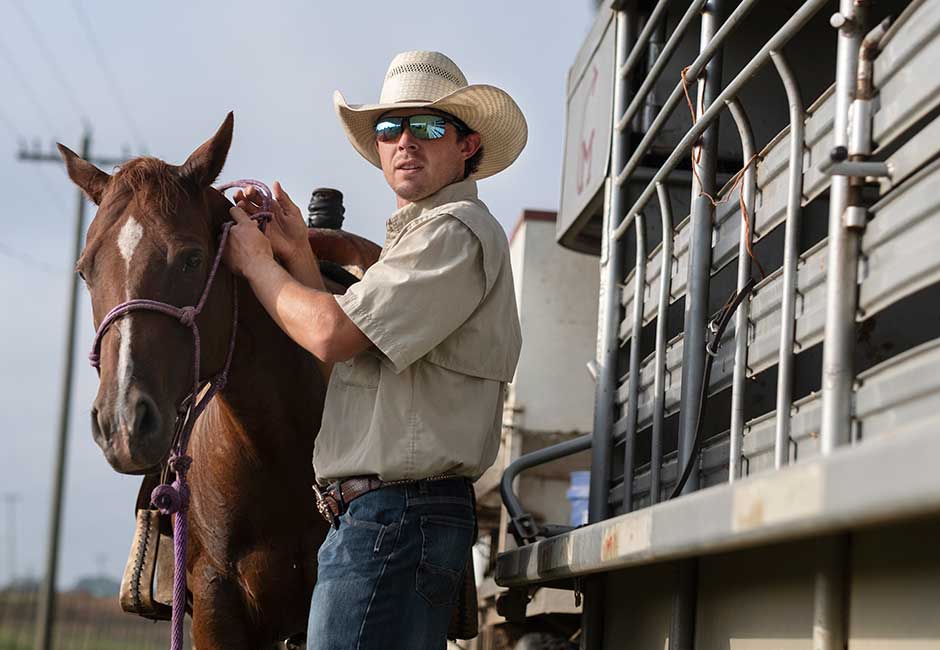 Bryan Carter
"It takes a lot of trust working with cattle and horses, and our team understands the importance of teamwork, patience and good communication—all of which are required to get the job done," he said.
Karisch said all research at the MSU Beef Unit directly benefits cattle producers in Mississippi and across the Southeast.
"One of the goals of MAFES research is to answer questions for the cattle industry, particularly in the Southeast, where most producers have 30 head or less," said Karisch, who serves as the beef cattle specialist with the MSU Extension Service, in addition to being a scientist with MAFES, officially named the Mississippi Agricultural and Forestry Experiment Station.
From an animal welfare standpoint, Karisch said herding cattle on horseback is less stressful for the animals.
"This is a low stress, cattle-handling best management practice we preach across the industry," she explained. "Cattle that experience less stress are healthier and grow better."
She said the students—both those on horseback and interns assisting the herdsmen to gain experience—are trained to be aware of an animal's response and behavior.
"I love watching the sunrise on horseback. It was a surreal moment when I was like, 'I'm actually doing this for school.'"
~ Alexandra Pittman
"Just like people have a bubble for personal space, cows also have a bubble," Karisch said. "As they become accustomed to handling, that bubble may shrink. We emphasize that students be cognizant of that bubble and learn to read that animal's behavior.
"The animals always come first," she added, noting that even during the pandemic-based lockdown, dedicated staff still tended the herds daily. "Rain or shine, seven days a week, they're out there."
With pastures that dot the state, MAFES herds include approximately 2,500 cows that graze not just in Starkville but also at the MSU's Prairie Research Unit, the Brown Loam Branch Experiment Station, the White Sands Research Unit and the Coastal Plain Branch Experiment Station.
The herds allow MSU scientists to study everything from using precision technology to gauge heifer development to determining best practices for raising locally sourced farm-to-consumer beef to antibiotic resistance in calves and much more. One of the research projects Freeman assists with investigates the role inflammation plays in bovine respiratory disease, which is the leading cause of mortality for stocker cattle—young forage-fed calves being raised to a desired weight.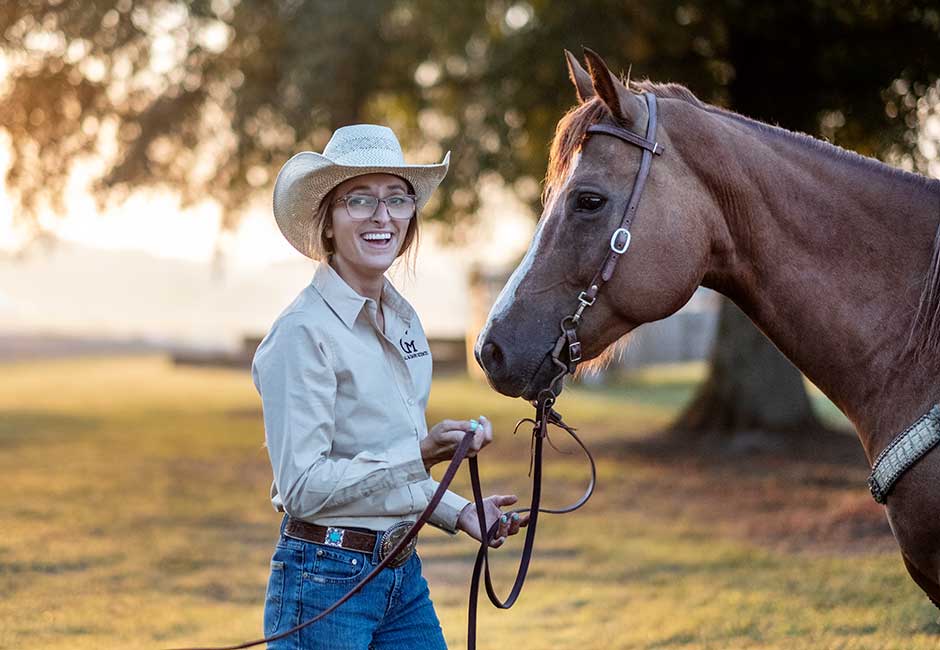 Sarah Montgomery
The work is led by Alexandra Pittman, an animal and dairy sciences graduate student, who earned a bachelor's in the field in 2019.
"I'm evaluating metaphylaxis, the mass treatment of cattle with antibiotics on arrival," Pittman explained. "Does the antimicrobial protect them or does it cause inflammation, thereby making them more vulnerable to the disease?"
While Pittman grew up showing livestock in 4-H and was a member of MSU's Livestock Judging team as an undergrad, the Hattiesburg native said becoming a campus cowboy came with a learning curve.
"Working with stocker cattle is new for me. I grew up around horses and cattle, but we never used our horses to check cattle," said Pittman, who credits the herdsmen and experienced student cowboys with showing her the ropes. Still, once she got the hang of it, Pittman said she wouldn't have it any other way.
"I love watching the sunrise on horseback," Pittman said. "It was a surreal moment when I was like, 'I'm actually doing this for school.'"
Freeman agreed, suggesting that everyone should experience a Starkville sunrise in the same way.
"It's good for the soul," Freeman said. "I've been all over the country with the rodeo. You won't find a sunrise or sunset as beautiful as it is here."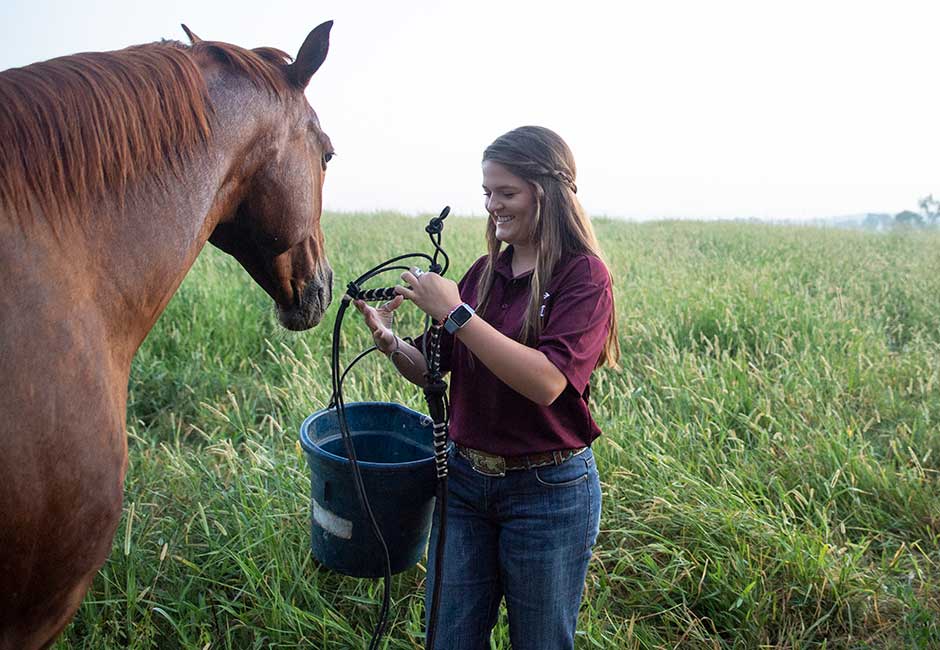 Alexandra Pittman
By Vanessa Beeson | Photo by Megan Bean