Engineering, mentoring dreams take MSU grad from Natchez to NASA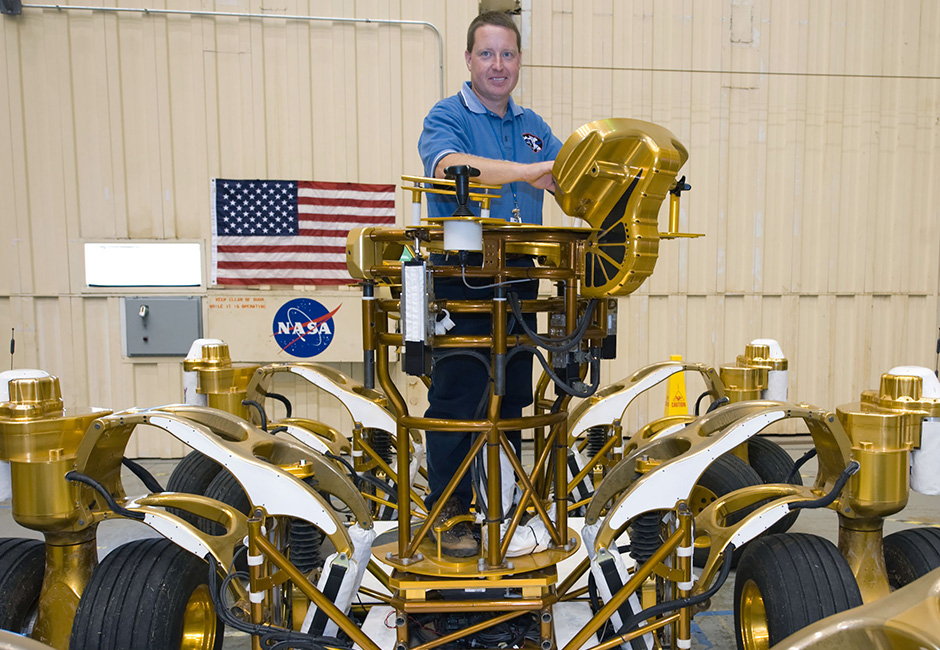 Throughout his life, Natchez native Lucien Junkin has stood on the shoulders of giants, from parents and siblings to coaches and teachers. Many of these individuals are fellow Bulldogs who inspired the longtime NASA engineer on his quest to be a "giant" for the next generation.
In 1985, Junkin enrolled in Mississippi State's nationally ranked engineering college from which two of his brothers had previously graduated. He aspired to a career combining his interests in engineering and coaching, a dream influenced by one of his beloved mentors—former Cathedral School baseball and football coach Kenneth "Ken" Beesley, who also happened to be part of the MSU Diamond Dawgs' 1965 and 1966 SEC Championship teams.
"Outside of my mother and father, Coach Beesley was the most influential person in my life and decision to be an engineer," Junkin recalled. "He went off to school and became a teacher but had some desires to be an engineer. I went off to become an engineer but had desires to be a teacher. I went back to his classroom my senior year and told him I wanted to get my teaching degree, so I could coach and teach like him. He and my parents told me to give it a few years in engineering and look for mentoring opportunities. It was the best advice of my life."
While earning a mechanical engineering degree from MSU, Junkin worked a few summers with Chevron in New Orleans. After graduation he got a job with Olin Corp. in Tennessee before joining the newly formed robotics division at NASA's Houston, Texas-based Johnson Space Center in 1990. Currently, he serves as chief engineer of NASA's Lunar Terrain Vehicle, known as LTV, and Space Exploration Vehicle, abbreviated SEV, which are under development to support human surface exploration on the moon and Mars.


NASA chief engineer Lucien Junkin enjoys mentoring K-12 students and promoting careers in science, technology, engineering and mathematics. His passion for helping others was inspired by various mentors, including knowledgeable mechanical engineering professors at Mississippi State.
Junkin explained that the LTV will support two astronauts in spacesuits for exploration near a base, and the SEV will support two astronauts for up to two weeks while being capable of traveling hundreds of kilometers from a base. He's been involved with the development of the SEV since the vehicle's inception in 2005 and said it continues to be a significant element of NASA's human space exploration architecture.
"At NASA, we're integrators," Junkin said. "We take things that exist and integrate them together to make a new system. That's what we're doing with these SEVs—breaking them down into subsystems that have different requirements and challenges.
"I always preach to my students and engineers—You're striving for the 90% solution, not 100%," he continued. "A bunch of 90% solutions create a great system, whereas if you're striving for 100%, you'll never obtain it even if you try your whole life."
Junkin said these complex vehicles are part of a broader mission to transform Mars into a habitable, Earth-like environment.
"This is about your great-great-great-great-great-great-grandchildren going to Mars and being able to play soccer there underneath trees and a blue sky versus in a space suit," he said. "It's going to take commitment and generations, but the science we're doing will help us figure out how we can make that happen."
Along with leading the teams developing the next generation of moon vehicles, Junkin is actively involved in K-12 robotics education and enjoys making an impact on youth, especially aspiring scientists and engineers. He leads NASA's Robotics Alliance Project that provides students throughout America with opportunities to participate in various robotics programs. He also is head coach of the award-winning Robonauts, a robotics team with students from seven high schools in Texas's Clear Creek Independent School District, and created the Engineering and Robotics Learned Young program that engages elementary-level scholars in robotics and engineering.
"I always preach to my students and engineers—You're striving for the 90% solution, not 100%. A bunch of 90% solutions create a great system, whereas if you're striving for 100%, you'll never obtain it even if you try your whole life." ~ Lucien Junkin
In 2005, Junkin won the regional Woodie Flowers Finalist Award recognizing his passion for motivating and challenging students to be effective communicators and leaders in engineering and design. His mentees also nominated Junkin for the Championship Woodie Flowers Award, and this past spring, he was selected as the sole recipient from more than 200 finalist award winners.
"I'm a huge believer in giving back. Whatever you do or develop in your life, the real satisfaction comes from the influence you have on the next generation," said Junkin, whose daughter Casey and son Billy are Robonauts members.
Over the course of his career, Junkin has found joy in empowering students to pursue education and careers in science, technology, engineering and mathematics, or STEM, fields. Helping students become better people by developing good, lifelong habits is a responsibility he takes seriously.
"Family, school, robots—we promote strongly those priorities in that order to help the robotics students get better," Junkin said. "Strive to be world class, stay disciplined, never lose focus of what's really important and take the best lessons from everyone with whom you interact. That's what I believe in, that's what I teach these students, and that's the advice I would give current MSU students."
Thinking back on his own time at Mississippi State, Junkin said the university did him "a great service by putting seasoned professors in the classroom who tied the theoretical to the practical."
"We had professors who came out of industry to teach, and they taught us tons of theory but also tons of application of that theory," Junkin said. "That practical part of education and its application are why I am where I am today, and I'm super, super thankful."
---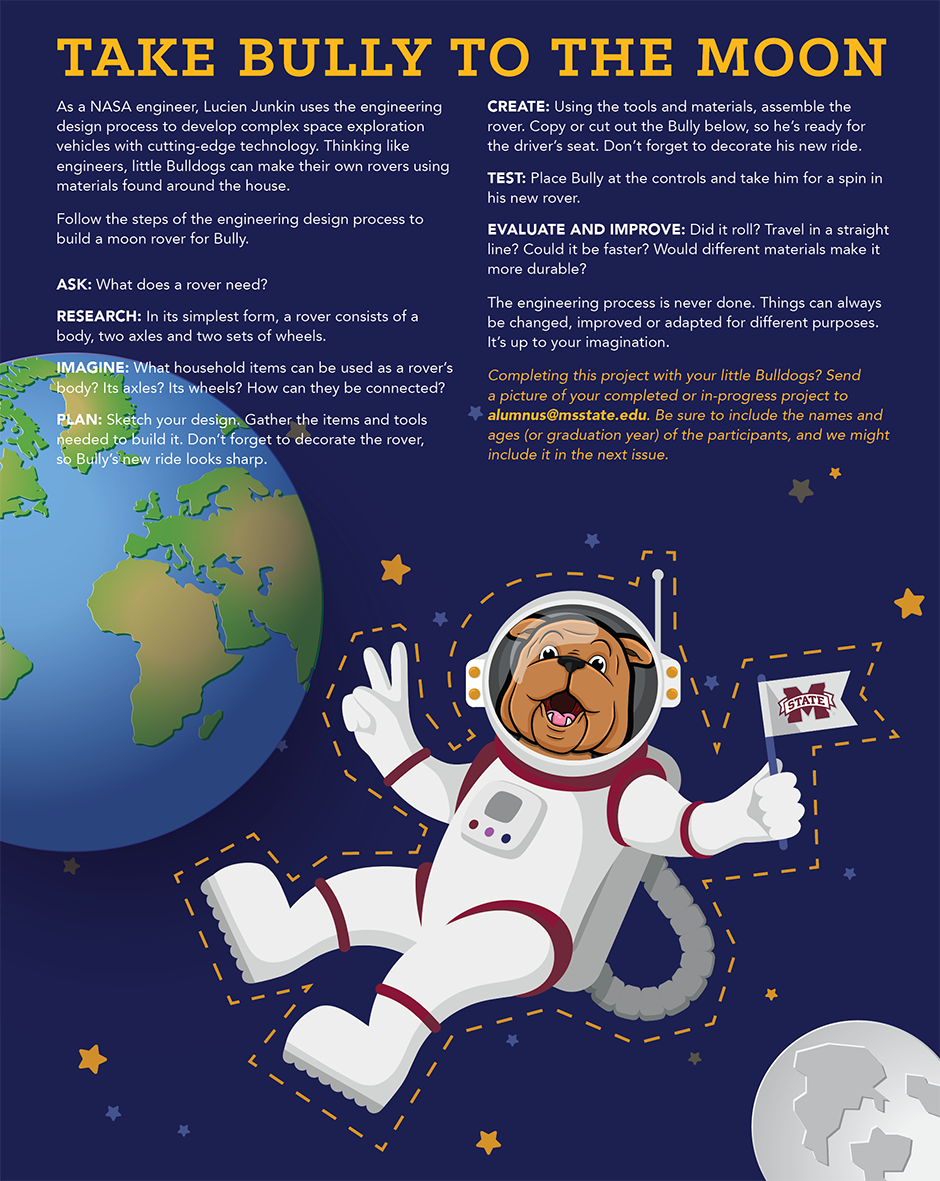 As a NASA engineer, Lucien Junkin uses the engineering design process to develop complex space exploration vehicles with cutting-edge technology. Thinking like engineers, little Bulldogs can make their own rovers using materials found around the house.
Follow the steps of the engineering design process to build a moon rover for Bully.
Ask: What does a rover need?
Research: In its simplest form, a rover consists of a body, two axles and two sets of wheels.
Imagine: What household items can be used as a rover's body? Its axles? Its wheels? How can they be connected?
Plan: Sketch your design. Gather the items and tools needed to build it. Don't forget to decorate the rover, so Bully's new ride looks sharp.
Create: Using the tools and materials, assemble the rover. Copy or cut out the Bully below, so he's ready for the driver's seat. Don't forget to decorate his new ride.
Test: Place Bully at the controls and take him for a spin in his new rover.
Evaluate and Improve: Did it roll? Travel in a straight line? Could it be faster? Would different materials make it more durable?
The engineering process is never done. Things can always be changed, improved or adapted for different purposes. It's up to your imagination.
Completing this project with your little Bulldogs? Send a picture of your completed or in-progress project to alumnus@msstate.edu. Be sure to include the names and ages (or graduation year) of the participants, and we might include it in the next issue.
---
By Sasha Steinberg | Photos submitted