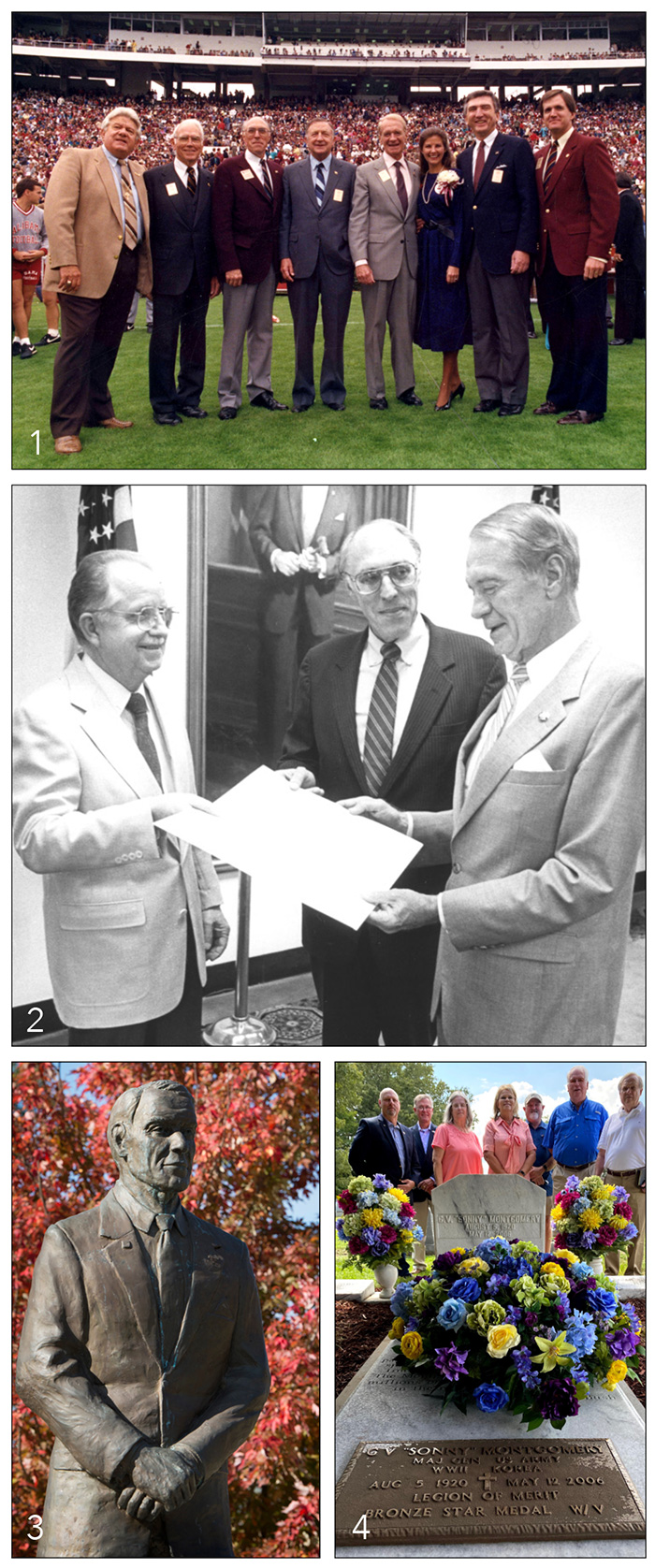 The namesake of scholarships, a foundation and Mississippi State University's veteran's center, G.V. "Sonny" Montgomery would have celebrated his 100th birthday Aug. 5. The longtime congressman for Mississippi's 3rd Congressional District and "Mr. Veteran" died May 2, 2006 at 85.
Born in Meridian, Montgomery always considered the Queen City home despite the family's frequent moves during the Great Depression. He graduated from McCallie Military Preparatory School in Chattanooga, Tennessee, before enrolling at Mississippi State where he played basketball, managed the football team and was elected Mr. MSU.
He graduated in 1943 and was commissioned as a second lieutenant into the U.S. Army. He deployed to Europe with the 12th Armored Division during World War II and later with the 31st Infantry Division during the Korean War. He was awarded the Legion of Merit, the Bronze Star, the Army Commendation Medal and the Combat Infantryman Badge. In 2005, he was presented the Presidential Medal of Freedom by President George W. Bush.
Returning to Mississippi after his military service, he was elected to his first public office in 1956 and began a 10-year career representing Meridian in the Mississippi Senate. He then successfully ran for Congress and held the seat for 30 years. He was named chairman of the House Veterans Affairs Committee in 1981, a position he would hold for 13 years, and also served as a senior member of the Armed Services Committee.
In Congress, Montgomery championed legislation that increased veterans' eligibility for home loans, life insurance and medical coverage. He also co-sponsored the law that made the Veterans Administration the 14th cabinet department in the federal government. However, he considered his signature achievement in Congress to be the passage of the so-called Montgomery G.I. Education Bill, which expanded the original G.I. Bill to enhance education benefits for active-duty military personnel and extend those benefits to National Guard and Reserve members.
After his death in 2006, the G.V. "Sonny" Montgomery Foundation was established with the bulk of his estate. Since that time, it has awarded approximately $2 million to a variety of causes that focus on the support of service members and veterans, education opportunities and leadership development. Among the beneficiaries of that support is the Montgomery Advisement and Career Services Center at MSU-Meridian and the Montgomery Center for America's Veterans at Mississippi State.
Montgomery Foundation board members include former staff members and close associates: Brad Crawford; Fred Sullivan; Alex B. Weddington; Ronnie Walton; Bob Bailey; Bo Maske; David Kennard, Sharon C. Johnson; Sid Salter; Pam Steverson; and Kyle Steward.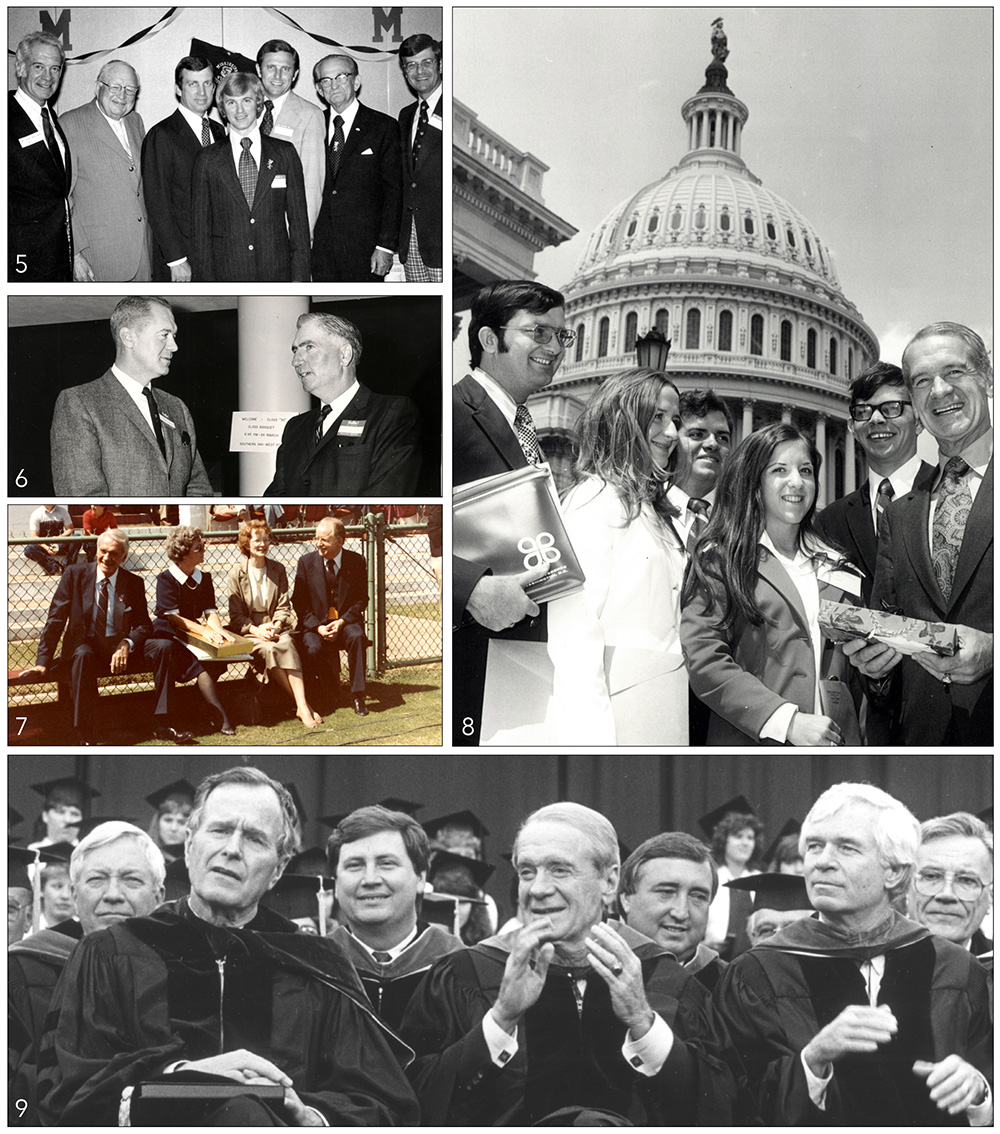 ---
1) L-R:Jerry Clower, MSU President Donald Zacharias, Hunter Henry, G.V. "Sonny" Montgomery, Janet Marie Smith, H. Devon Graham and Steve Grafton during half-time at a football game. 2) L-R: George Lewis, Donald Zacharias and Montgomery at the library. 3) Statue of Montgomery near the MSU Drill Field. 4) Montgomery family and friends celebrating and honoring Montgomery's 100th birthday. 5) L-R: G.V. "Sonny" Montgomery, Sen. James Eastland, Bob Tyler, John Hamner, Rep. David Bowen, Sen. John C. Stennis, and Rep. Trent Lott at MSU Alumni Association event in May of 1975. 6) Montgomery pictured with Jim Buck Ross at a class reunion. 7) Montgomery on sidelines with Dean Frances Coleman, Mattie Sink and George Lewis during football game. 8) Mississippi delegates of National 4-H Club Congress on the steps of the U.S. Capitol with Montgomery in 1972. 9) President George H. W. Bush, Congressman Montgomery, U.S. Sen. Thad Cochran and others are pictured at MSU's 1989 Commencement. Montgomery and Bush were freshmen congressmen together in 1966.